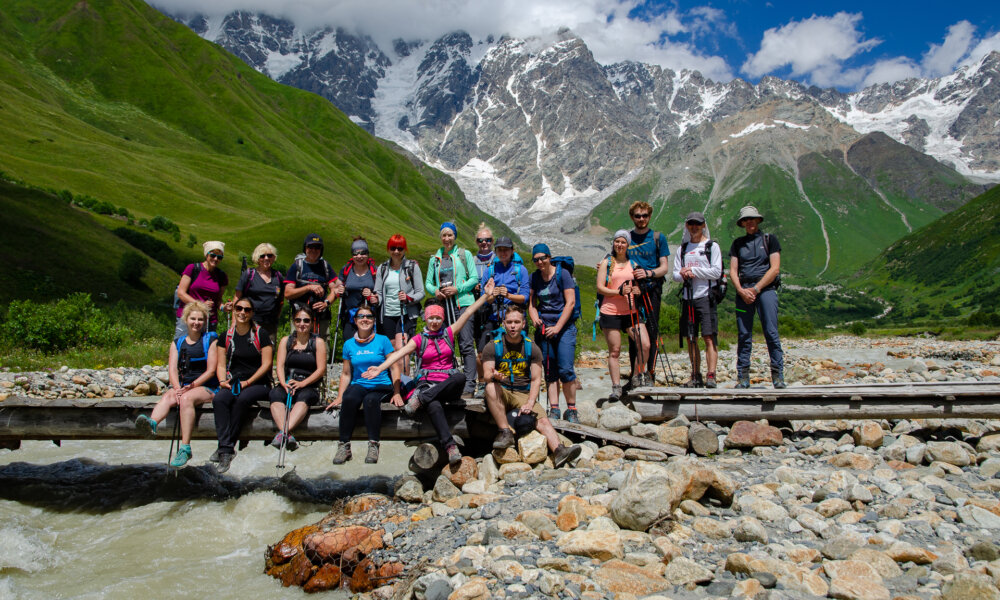 We are looking for extraordinary people who want to join our team and co-create with us the best mountain agency in Georgia!
√ Cooperate with us!, which is something for bloggers, YouTubers, travelers and photographers
We invite bloggers, Youtubers, travelers and photographers from around the world to join the group of our co-workers.
We are open to all interesting offers.
If you write a blog, shoot videos on YouTube, take photos and want to explore the mountains of Georgia, then we will be happy to invite you to us.
√ Work with us!, which is something for all those, who are looking for something more than a boring job in a corporation 
We offer:
unconventional work in an international environment and with many challenges every day,
accommodation in Stepantsminda/Kazbegi while being in Georgia
(private room in a nice house, where other members of our team live; the room is with a view on Mt. Kazbek),
a friendly atmosphere, because this is not a corporation, but a place that is created by friends,
good salary,
possibility of taking part in our trips to Mt. Kazbek for free and getting to know the true face of Georgia, not just the one from an advertising folder.
Currently we are looking for people, who will work in Stepantsminda/Kazbegi in:
our main office,
in our small branch combined with a tourist and souvenir shop,
but also will be leaders during our trips and expeditions.
For these people, we offer a job for the period from April till October 2022.
If there is something between us and we get along, we will be happy to offer you to stay with us also for the winter season,
which we spend in Gudauri – the winter capital of Georgia.
We are definitely looking for serious people for long-term cooperation!
We will teach you everything and initiate you in all topics!
You just have to want, have an open mind and quickly absorb large amounts of knowledge. 
WARNING! WE ARE NOT LOOKING FOR AND DO NOT EMPLOY ADDITIONAL MOUNTAIN GUIDES.
WE HAVE OUR OWN MOUNTAIN GUIDES, WHO HAVE THE RIGHT PERMISSIONS TO WORK, TRAINING, KNOWLEDGE,
AND ABOVE ALL, LONG EXPERIENCE IN THE CAUCASUS MOUNTAINS!
If you want to work with us and if you:
know English well and / or Russian, German, some other nice language
(the absolute minimum is to be fluent in English, because in this language we mostly do our work, and Russian is very, very welcome,
because in this language we communicate with each other),
like working with people and you are not afraid of long conversations,
during which you often have to repeat the same information a thousand times,
you have experience in tourism (very welcome!) or in customer service,
you like mountains, nature and travels,
you are ready to live in a small village at one of the ends of the world among Caucasian peaks (it has as many advantages as disadvantages!),
you are an independent, responsible person, you get involved in the duties entrusted, you deal well with stressful situations, and you also have a fantasy that will help you handle Georgian reality, which is so different from the European one
send us an e-mail in english to info@mountainfreaks.ge with your CV and write something about yourself in it,
that will convince us that you are the perfect candidate for the Mountain Freaks Team. Write something straight from your heart!
We want to know what is your experience in working with people, how you react in a situation where hundred people want something from you at the same time, which mountain you like the most, which wine you drink, do you know the difference between basket and automatic crampons (or how fast you are able to find out this difference!)?
Write us what you can offer and what you can bring to our team.
We will respond to all applications, and we will invite selected candidates first for the interview and then to Georgia!