In this article you may find useful information on rescue services in Georgian mountains, with an emphasis on Kazbegi. Everyone who plans a Mount Kazbek trip or trekking in its vicinity should familiarize themselves with it. Not knowing the actual realities of Georgia may cause you to damage your health, or even lose your life!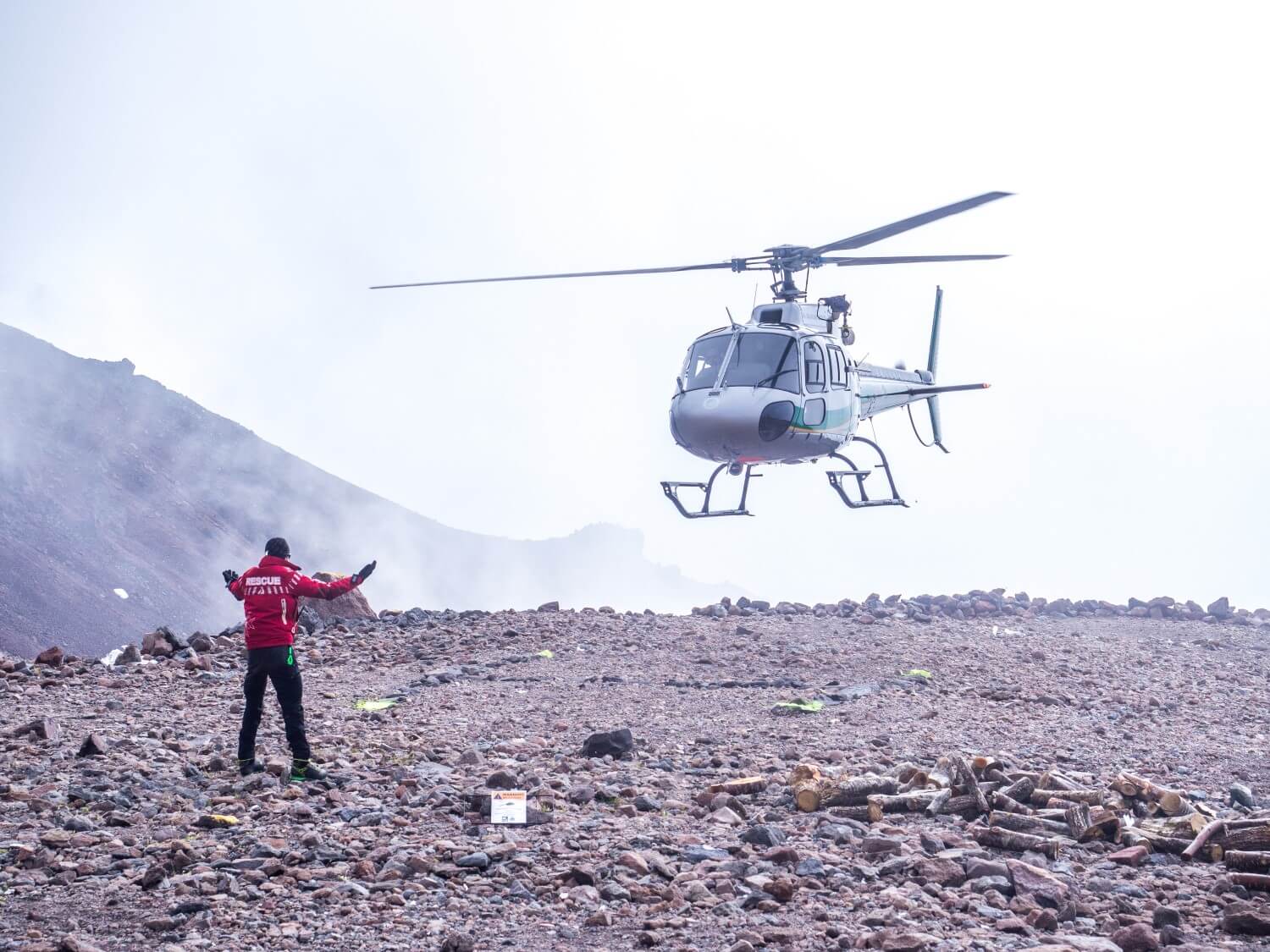 In Georgia, mountain rescue tasks are carried out by the local structures of the national Crisis Management Agency. However, there are no specialized mountain rescue units with long-time tradition, elaborate preparation or specialized equipment. Professional mountain rescue services are fairly new in Georgia; they develop slowly as the number of tourists is increases. In their work, the local services have to struggle with serious deficiencies in their equipment. There isn't even a flying ambulance, which would allow reaching the possible injured quickly and transporting them to the hospital. Tasks which require the so-called "propeller" are performed with the help of helicopters used for commercial flights. By extension, there is a problem with the chopper's availability: it may be used for different purposes at the times it is needed. Moreover, there are no paramedics in the Georgian rescue teams. Georgian rescue workers only have basic skills in premedical first aid. Specialized help can be obtained only after moving the injured to a medical facility. If a helicopter is available, then it can transport the injured directly to the hospital in Tbilisi. There, a specialized team can take actions to save patient's health and life. In the small town of Kazbegi, which is at the foot of Mount Kazbek, there is a small hospital with one doctor on duty, so medical assistance here is significantly limited.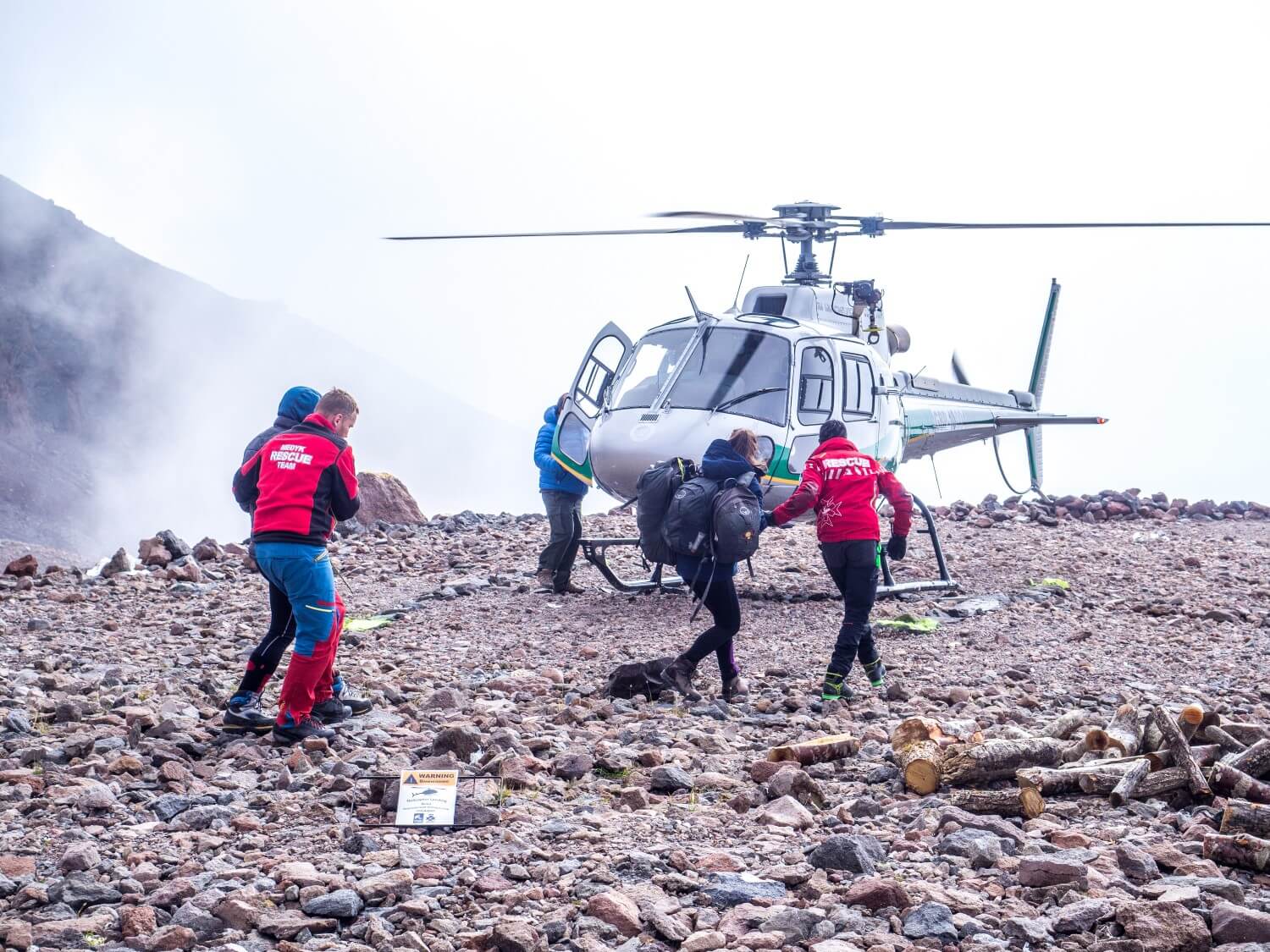 To call for help in Georgia, we should contact the emergency number 112. There is also a special app for it (called MIA LEPL 112 Georgia). Before going to the mountains, it is worthwhile to get a Georgian SIM card from MAGTI; it can be bought in every airport or in MAGTI shops you can find in Tbilisi or Kutaisi. MAGTI has the best mobile phone coverage in Georgia. On the way to the top of Mount Kazbek you can even find two transmitters of this network, so coverage is almost always available. ALMOST. There are still places with no mobile coverage whatsoever, and, as a consequence, no possibility to make any calls (e.g. the vicinity of the so-called "Upper Plateau", around 4500 m above sea level). We also recommend saving Meteo Station basecamp number before you start your hike. Usually, you can find there some of the local guides, who can prove very helpful in a crisis. You should also get a number of rescue services in Kazbegi, of a company which rents helicopters for rescue flights, and to the office of Mountain Freaks – Mountain Travel & Adventure. It is possible that this way of calling for help is going to be quicker and more efficient than calling the 112 emergency number.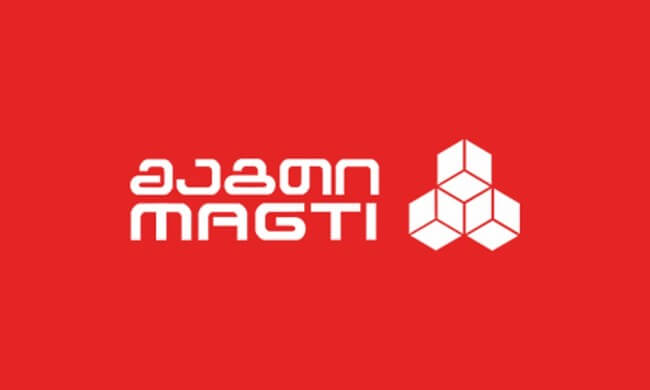 Before going to Georgia, you should also consider buying a suitable insurance, which would cover the costs of a rescue and search mission with the help of a helicopter. It is important that you buy cashless insurance, so that in case of an emergency and calling for help, you get the help straightaway, and not after having paid for it (as it happens in case of cash insurance). Because how can you settle a bill after falling down into a crevasse or struggling with frostbite in a snowstorm at an altitude of 4500 m? We have witnessed a situation when, because of lack of appropriate insurance, help was denied to a man from the Ukraine who was struck by a lightening while climbing Mount Kazbek. Despite the fact that the helicopter was ready, it hasn't gone on the rescue mission for the next dozen or so hours, until the man's family has sent the money to pay for it. The whole story ended well, but it's rather a miracle.
A helicopter rescue mission around Mount Kazbek costs at least 3500 euro. While buying insurance, you should make sure that it covers this cost and check if it covers extreme sports as well. Because according to many insurance companies, trekking in Caucasian mountains, especially on Mount Kazbek, is an extreme sport. Moreover, some of the insurance companies do not rank Georgia as Europe and you might need to buy the "World" insurance policy.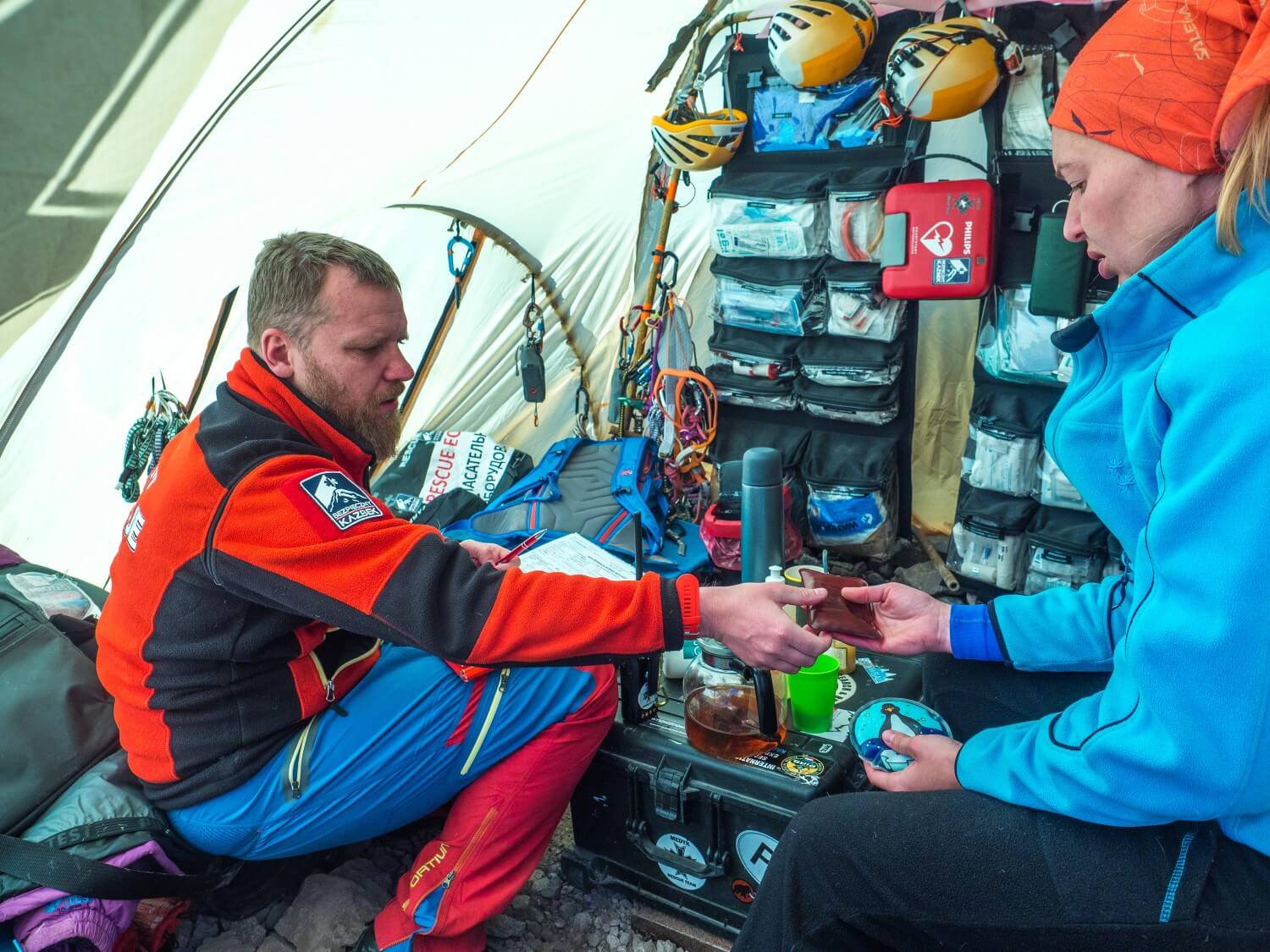 The nearest base of Georgian emergency services near Mount Kazbek is located at the foot of the mountain, in the town Kazbegi. If it is not possible to use a helicopter, the Georgian rescue workers need to reach the injured on foot. In their rescue missions, very often horses help to transport the injured, but they do not go further that Meteo Station basecamp (3540 m above sea level), and only if there isn't too much snow on the trail.
During the summer season, i.e. from July to September, there are Polish rescue workers on duty, as a part of the Safe Kazbek project, under the patronage of the Jerzy Kukuczk Polish Mountaineering Association and the Polish Mountaineering Support Foundation. The volunteer rescuers' task is conducting preventive action, informing about the threats, providing health services and maintaining readiness for search and rescue operations. Every season, help is given to a couple hundreds of injured. The rescuer workers' base is equipped with a field outpatient clinic. Polish rescuers cooperate with Georgian rescuers and guides. More information about the project can be found on the Facebook profile: Bezpieczny Kazbek (Safe Kazbek). But you need to keep in mind that these are no official emergency units, and it can happen that Safe Kazbek project's services are suspended for some time or that there aren't enough rescuers to conduct a rescue mission. You should not take it for granted that they will help you in every situation, and you should not take any risks during your trips just because "Safe Kazbek must help you".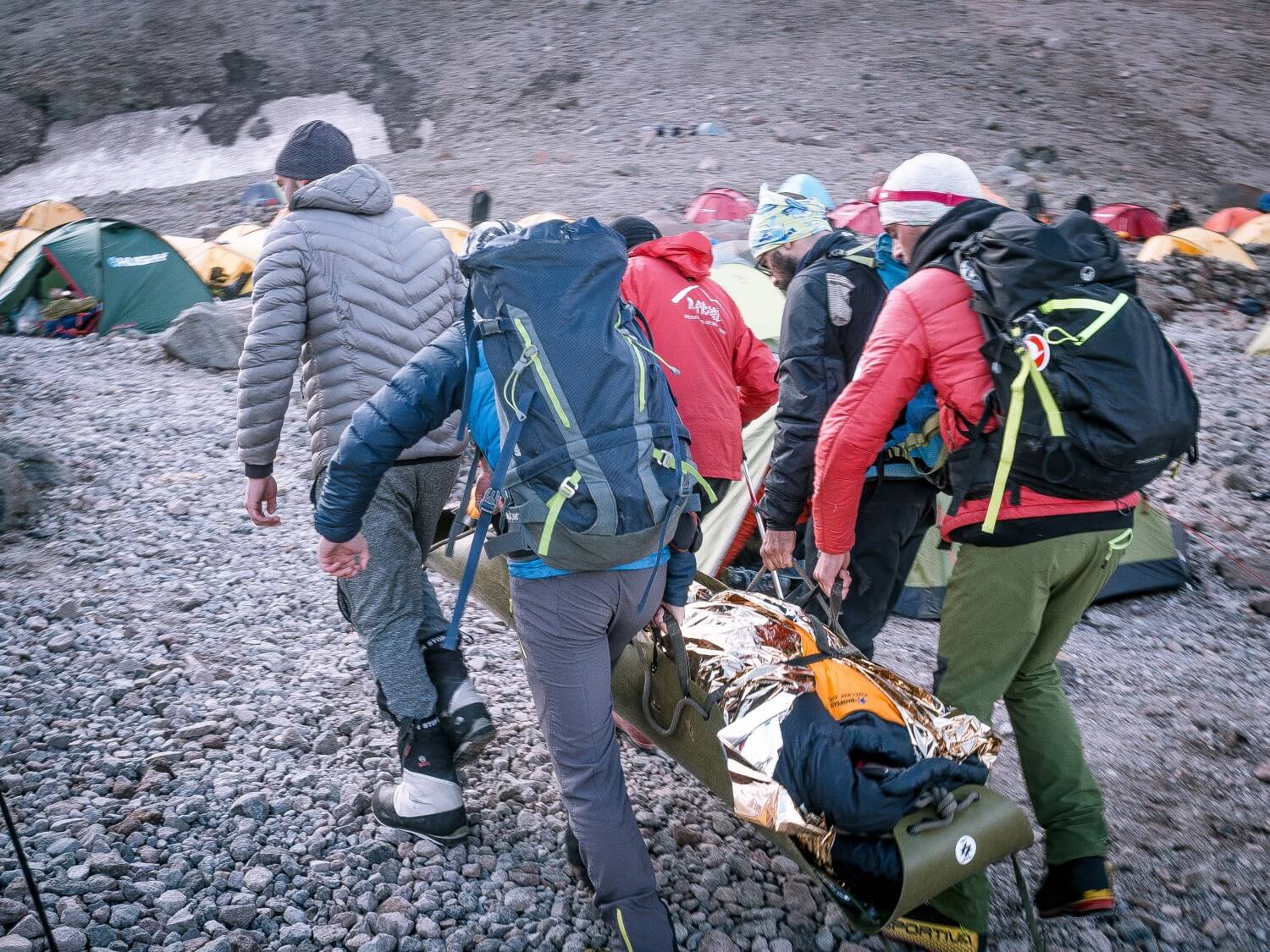 Finally, a quick summary. While setting out for one of the Georgian mountain trails, you should remember that the local emergency services are not as reliable as in many other countries. A rescue mission can last a couple, or even a couple of dozens, hours. Many routes are far away from civilization, and reaching the injured in the tough, mountain area can constitute a great challenge. It should be remembered that trekking in the mountains is not a big part of Georgian culture and tradition. Georgian people in the mountains are mostly guides or mountaineers, i.e. professionals. In Georgia, trekking in the mountains as a hobby or leisure is not considered as worth risking lives. No Georgian rescue worker is going to risk their life to go on a rescue mission when the weather conditions are really bad. In such situations, the rescue operation usually begins when the weather conditions are better, or in the morning. Therefore, you should not overestimate your skills and abilities. If you have any doubts about the trek, use the help of a professional guide.