The characteristic feature of mountain weather is its changeability and volatility. In the mountains, the weather conditions can change, or even drastically deteriorate, basically within moments. On Mount Kazbek, predicting meteorological phenomena is especially difficult, due to its greatness. The point is that there is no other peak as high as Mount Kazbek in the vicinity. The surrounding mountains are fairly lower (around 1000 m), which causes Mount Kazbek to literally attract dangerous meteorological phenomena. So, we may check the weather forecast, but weather cannot be planned, and we cannot be sure whether the forecast will prove right or not.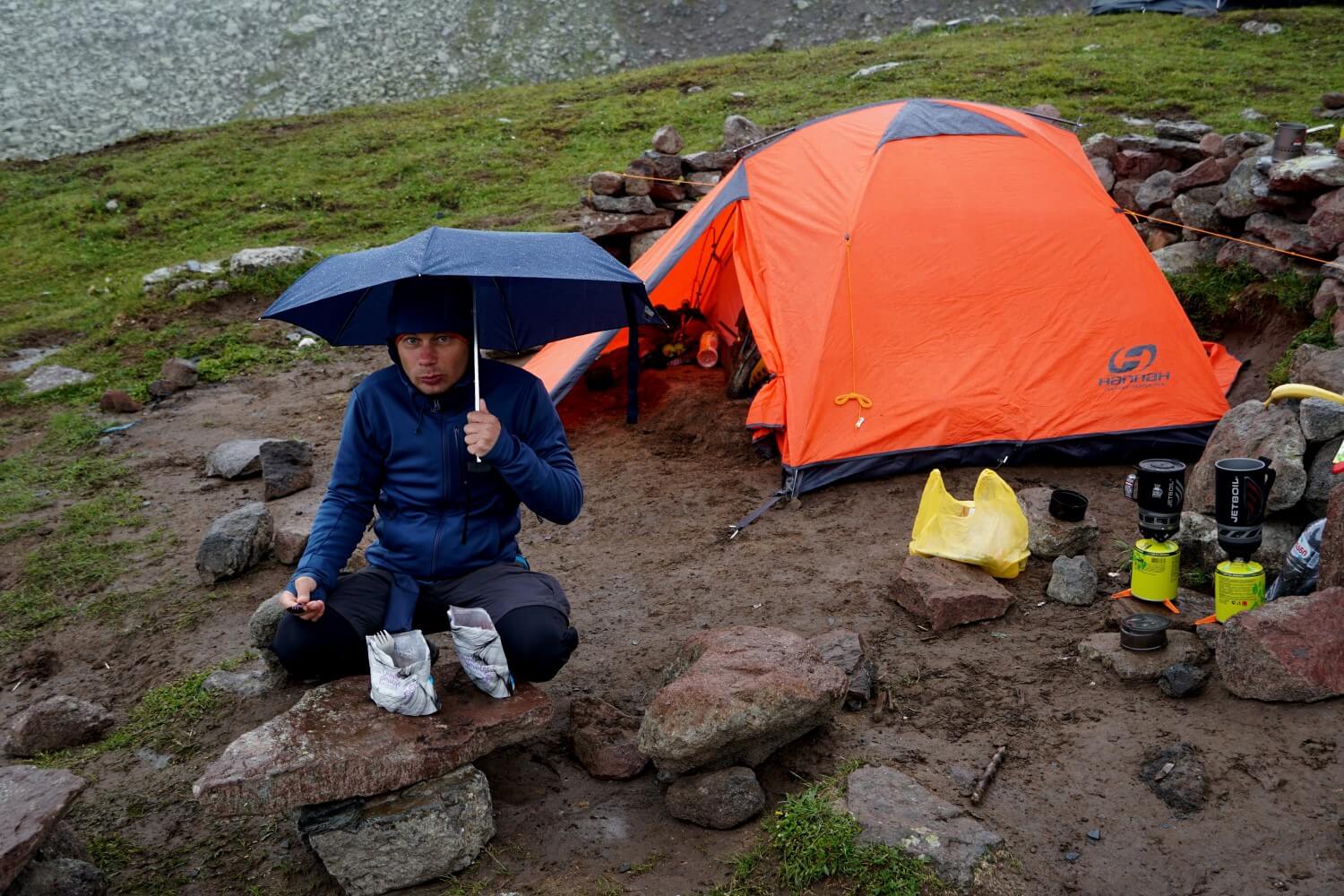 Where should I check the Mount Kazbek weather forecast?
A vital part of preparation for mountain climbing is determining the so-called "weather window", i.e. the moment, when the conditions are safe enough to begin a climb. The weather websites we can find in the internet might prove very useful. However, they do not give us any kind of guarantee. We usually use Meteoblue (www.meteoblue.com), which also has a user-friendly phone app. Moreover, MountainForecast (www.mountain-forecast.com) is also worth recommending. There, you can analyse the weather on specific altitudes.
While analysing the weather, we take under considerations factors such as wind strength, cloudiness, possible precipitation, risk of thunderstorms and temperature. Due to the very high changeability of weather conditions, long-term forecasts simply don't work in the mountains, especially not 5000 m above sea level. This is why we keep our evaluation of the situation up to date. For our treks, we check the forecast the night before the climb, after 6 p.m., when weather websites update their data. Then, having all the possible information, we plan our trekking or decide to postpone it. In the morning we check the conditions again, because many developments, which can cause the climb to be unsafe, may take place during the night. Our evaluation is based on our long-time experience and observation of the area. A red flag, which tells us that the conditions may be unfavourable, is e.g. peak of Mount Kazbek being invisible from the Meteo basecamp. It happens that the decision about stopping the trek and returning is made during the climb, when the conditions substantially worsen and are dangerous for participants' health and life.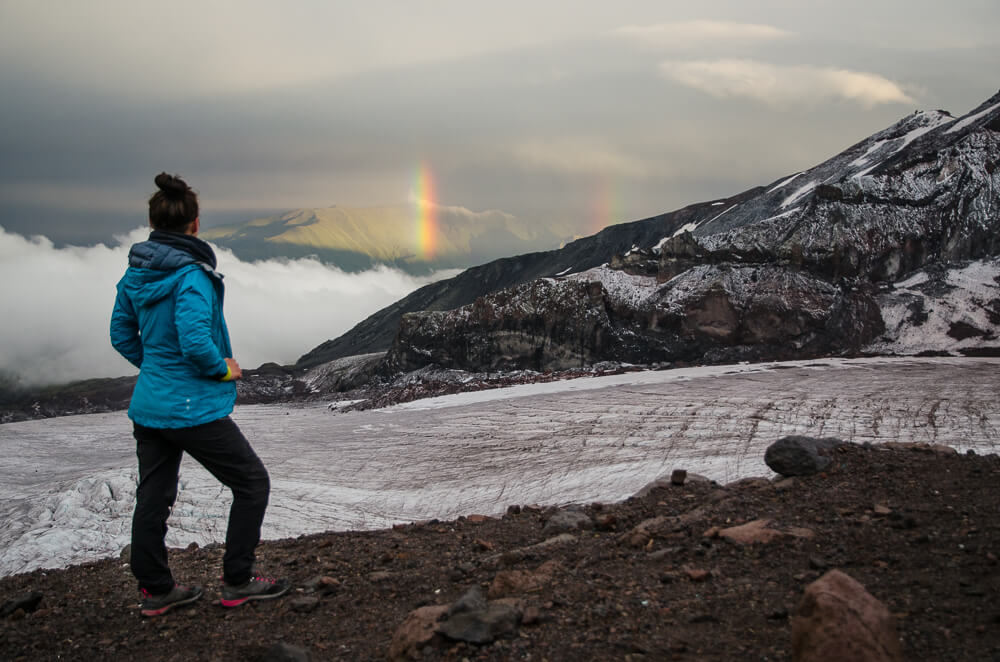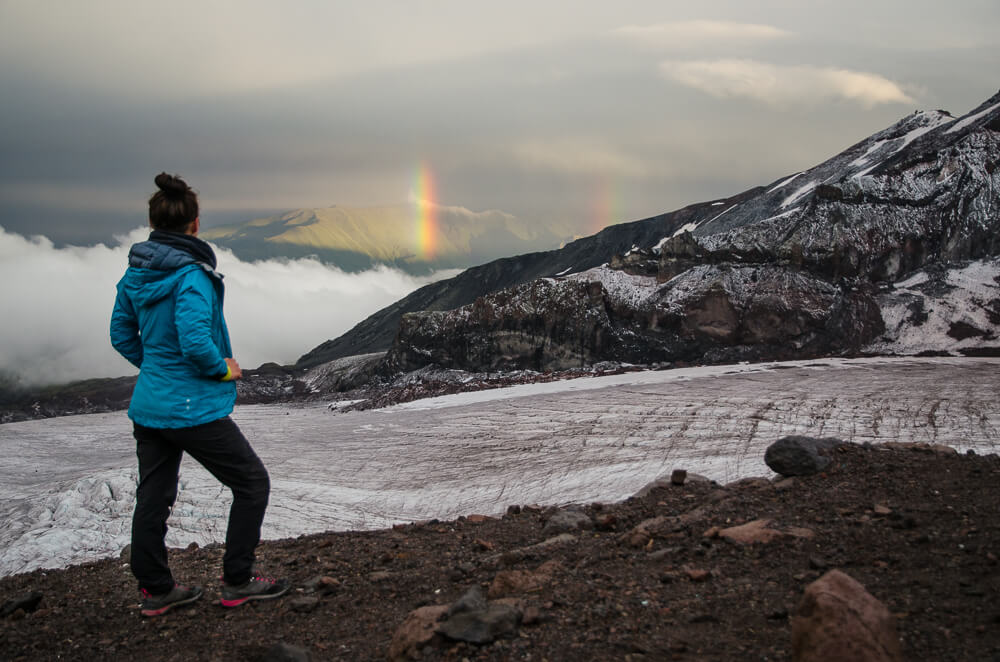 What weather hazards are there on Mount Kazbek?
If you decide to set out for a Mount Kazbek trek, it would be worthwhile if you acquainted yourself with the most common weather hazards there, which include:
Fogs, which can limit visibility and thus prevent proper navigation in the field. They constitute an important premise for making a decision to go back during a summit push. Despite the fact that nowadays more and more tourists are equipped with electronic navigation equipment, it may prove to be useless, as in many places there will be no signal due to the landform of Kazbek. Also, remember that the route to the Mount Kazbek's peak leads through a glacier, and thus through the newly created glacier crevices. GPS tracks uploaded a year, a month, or even a week ago do not guarantee safety!
Thunderstorms, which might result in getting struck by lightning. It should be remembered that in the mountains, thunderstorms usually occur in the afternoon. This is why when we climb too slowly during the summit push, we should go back, so that in case of the storm we are as low as possible. If you want to feel safe in this aspect, you should not reach the peak later than 10 – 11 o'clock.
 Gusty winds, with the strength of a hurricane, which can destroy even the most professional high-altitude tents located in the Meteo basecamp (3650 m), are a common phenomenon on Mount Kazbek. At peak, wind speeds can be as high as 70 – 80 km/h, which constitutes a very serious threat. If the forecast predicts such a strong wind, we should definitely give up on the summit push. Wind strength which is safe on Kazbek should not be higher than around 20-30 km/h.
Very low temperatures. On the Mount Kazbek's peak they reach around -20°C, and -10°C in the Meteo basecamp (at night). Remember, that the cold at an altitude of 5000vm in the Caucasus feels completely different than in the city, or even than in many other mountain regions. We can guarantee you: the summertime in Kazbegi might surprise you, even if you are an experienced mountaineer.
Snowfall, which also occurs in summer. As a standard, in the summer season (i.e. from mid-July to the end of September) snow begins at an altitude of around 4,000 m. However, snow may also occur in summer at the height of the main basecamp, i.e. the Meteo Station (3,650 m). Fresh snowfall in the higher parts may hinder the summit push, as it means you need to pave your way through, which significantly hampers and slows down the climbing.
Strong UV radiation is another factor you should take under consideration. Regardless of the degree of cloudiness, when trekking on Mount Kazbek, always use sunblock (SPF 50) or even special blockers (SPF 100) to avoid sunburns. It is also essential to use category 4 glacier glasses (only category 4!), which protect your eyesight against damage, or even loss, of sight.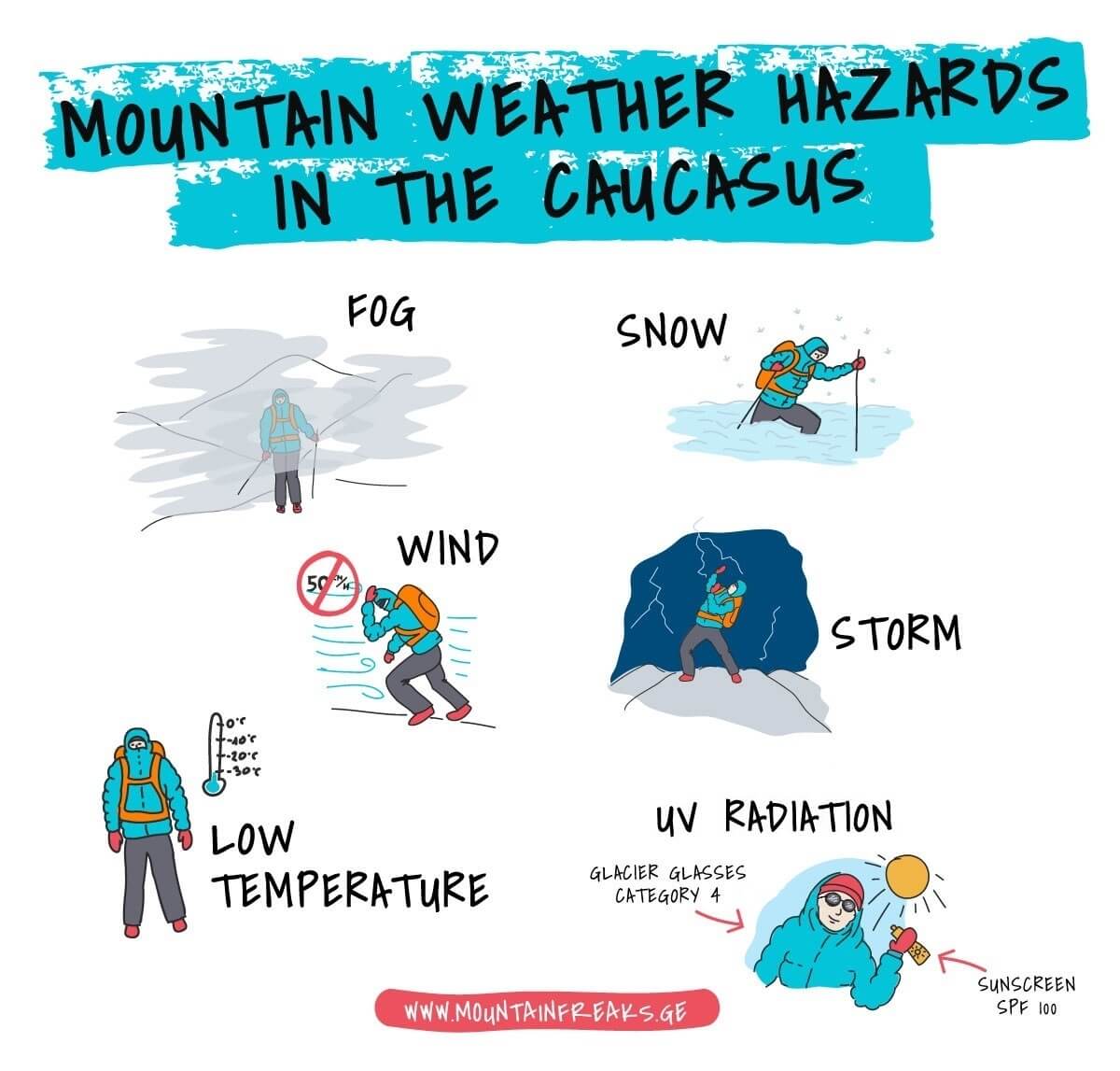 When the weather on Mount Kazbek is the best? When is the Mount Kazbek season?
Another important issue is the so-called "Mount Kazbek season". Well, the summer season lasts from mid-July to the end of September. This means that statistically the weather is the best during this period. However, the weather breakdowns may even occur in July and August! If you are going to Mount Kazbek for a ski-tour, the best months for you are April and May. Remember, however, that there are no services in Georgia that monitor and inform you about the avalanche danger, so should you not have adequate experience, it is better to use the services of a guide who knows the area. In June and October we also organize many trips to Mount Kazbek. Then, there is more snow in the lower parts of the mountains than in the summer season, but if someone is prepared for it, it should not hinder the climb. The upside is that there are far fewer tourists during these months, so you can feel almost as if you had Mount Kazbek for yourself. November and December are the worst months in terms of weather in our region; then, almost nobody attempts to conquer Mount Kazbek. January, February and March is the time for the winter ascents to Mount Kazbek, an attempt which should be made only by experienced and self-reliant climbers. This kind of ventures is not led by a guide, because every participant should represent the same level as he or she would. Otherwise, the climb may be dangerous for all the participants.
No matter when you decide to organize your trip to Mount Kazbek, in the mountains, at all times you need to stay reasonable and adjust your plans and activities to the current conditions. Because should you find yourself in trouble and in need of help of rescue services, you need to know that in poor weather conditions on Mount Kazbek, rescue operation might be very difficult, or even impossible, to carry out. The reason is that on Mount Kazbek, due to the weather conditions, it is very often not possible to send a helicopter for a rescue mission. While attempting to conquer the mountain, you must be ready to accept that the unpredictability of the weather is an intrinsic part of every mountain adventure. And while during a mountain climb it is possible face own weaknesses and win, the forces of nature you cannot defeat.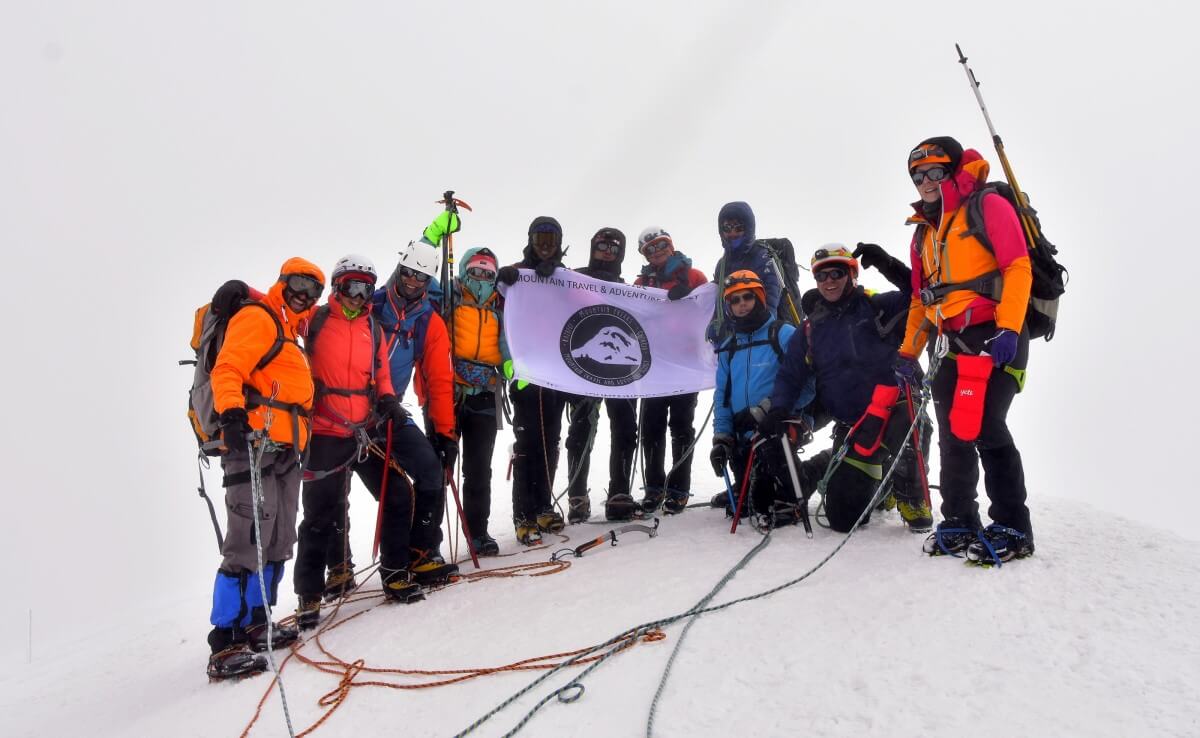 What to do if the weather on Mount Kazbek breaks down?
Finally, we have a couple of proposals for spending your time in Kazbegi if the bad weather catches you during your stay there. If going to the mountains is not an option, we have different recommendations for you!
First of all, it is a good idea to take advantage of this time to check out one of the many restaurants in the area. It is worth trying various Georgian dishes, which are considered one of the most original in the world, and made from natural local products. We have written a separate article about what to eat in Kazbegi, which you can find: HERE. All restaurants in Kazbegi are located almost next to each other, so moving from place to place should not be a problem, even in bad weather.
It is certainly worthwhile to check out the bar and restaurant of one of the best hotels in Georgia, namely Rooms Hotel. The prizes of drinks and food are not too high and should not ruin your budget, and you can enjoy yourself and relax in a designer, comfortable space. If you are lucky, maybe you will get to see a truly postcard view of the Orthodox Church of the Holy Trinity and Mount Kazbek from a place it looks the best, that is from the Rooms Hotel terrace.
You should also pay a visit to one of the Kazbeki's vineyards for some wine tasting. After all, to be in Georgia and not try its wine is like being on Oktoberfest and not having any beer. We especially recommend Winery Khareba, which is a local branch of one of the most famous vineyards in the country. Despite the fact that Kazbegi is not a wine region (too cold to grow grapes!), in our wine shops you can still find all the best Georgian wines.
For active tourism enthusiasts, we recommend trips to nearby monasteries and getting to know Orthodox religious art. This should be possible even in bad weather. In the vicinity of Kazbegi, in addition to the famous Cminda Sameba church, there is also the monastery of St. Archangel Michael in the Darial Gorge, monastery of St. Elijah in Kazbegi itself, or the basilica in Akhaltsikhe and Sioni. Moreover, you can find Georgian defensive towers in Sno and Pansheti.
In Kazbegi, there is also Alexander Kazbegi Ethnographic Museum, which can be a good alternative for rainy days (currently closed due to ongoing renovation). There is also small local Mountaineering Museum dedicated to the famous local mountaineer Jagor Kazalikashvili, where you can see photos of the first Mount Kazbek conquerors, as well as alpine equipment used here in the 19th and 20th centuries.