The continuation of the organizational matters that you must think over before heading to the mountains.
This time we will discuss all the issues that you will have to face after coming to Stepantsminda.
Trial of strength during first 5 minutes after arriving
in Stepantsminda (Kazbegi)
If you reach Stepantsminda (Kazbegi) by public transport (marshrutka) from Tbilisi, then the driver will leave you on the main square. This is literally the very epicenter of the tourist tornado. Most likely you will not be able to calmly get off the bus because there will be a dozen of people around you offering their services –  accommodation, meals, and of course all kinds of transport services. Unfortunately, very often these offers are intrusive and too expensive. Some people even think that these offers are so good that no one can refuse them and they react with anger when tourists do not want to take them. It's worth being prepared for it. It is also worth leaving this "boiler" as soon as it is possible and go to a quieter place to calmly organize your stay at the foot of  Mt. Kazbek.
Accommodation in Stepantsminda (Kazbegi)
Stepantsminda (Kazbegi) is one of the most popular and most visited places in Georgia, so you will easily find a place where you can stay. The choice is big – from the most basic dorm rooms with shared bathroom in the corridor, through pleasant guesthouses with double rooms with private bathrooms (called by some people guesthouses, and by others – over exaggerated – hotels), to the totally stunning Rooms Hotel – a four-star hotel, which is on the list of the most beautiful hotels in the world in terms of design, in which you can discover a completely different Georgia – from the top-shelf. A night at Rooms Hotel costs about $ 160-180 for a double room (accommodation and breakfast). It is not cheap, but if you spend at least one night there, you will not regret it. For those who want to experience a bit of luxury before heading to Mt. Kazbek, or for those who will want to relax in really great conditions after getting to the top, we strongly recommend Rooms Hotel and we give here a link where you will find more information about this place: HERE. The second place that we definitely recommend is our own guesthouse – a new, clean, pleasant guest house with double/twin and triple rooms (most of them with private bathrooms), which also serves as a base for all Mountain Freaks – Mountain Travel & Adventure Agency guests. For our guests we have a fixed price: 35 lari per night per person and 15 lari per person for breakfast (typical Georgian breakfast, which means a table bending under the pressure of food). You can find more details here: HERE. The price of about 30 lari per person is the price you should pay in Stepantsminda (Kazbegi) for a clean, double room with a bathroom and access to the Internet. Below this rate you can also find "something", but most of the time it will be a place in a dorm room, a room without a bathroom, no window, no Internet access, or a mix of all mentioned. Most of the objects can be booked through BOOKING. There is also no problem with finding a place upon arrival, without a prior reservation. You can always come to our office and we recommend you one of the guesthouses, or walk through Stepantsminda (Kazbegi) and ask locals about the possibility of accommodation.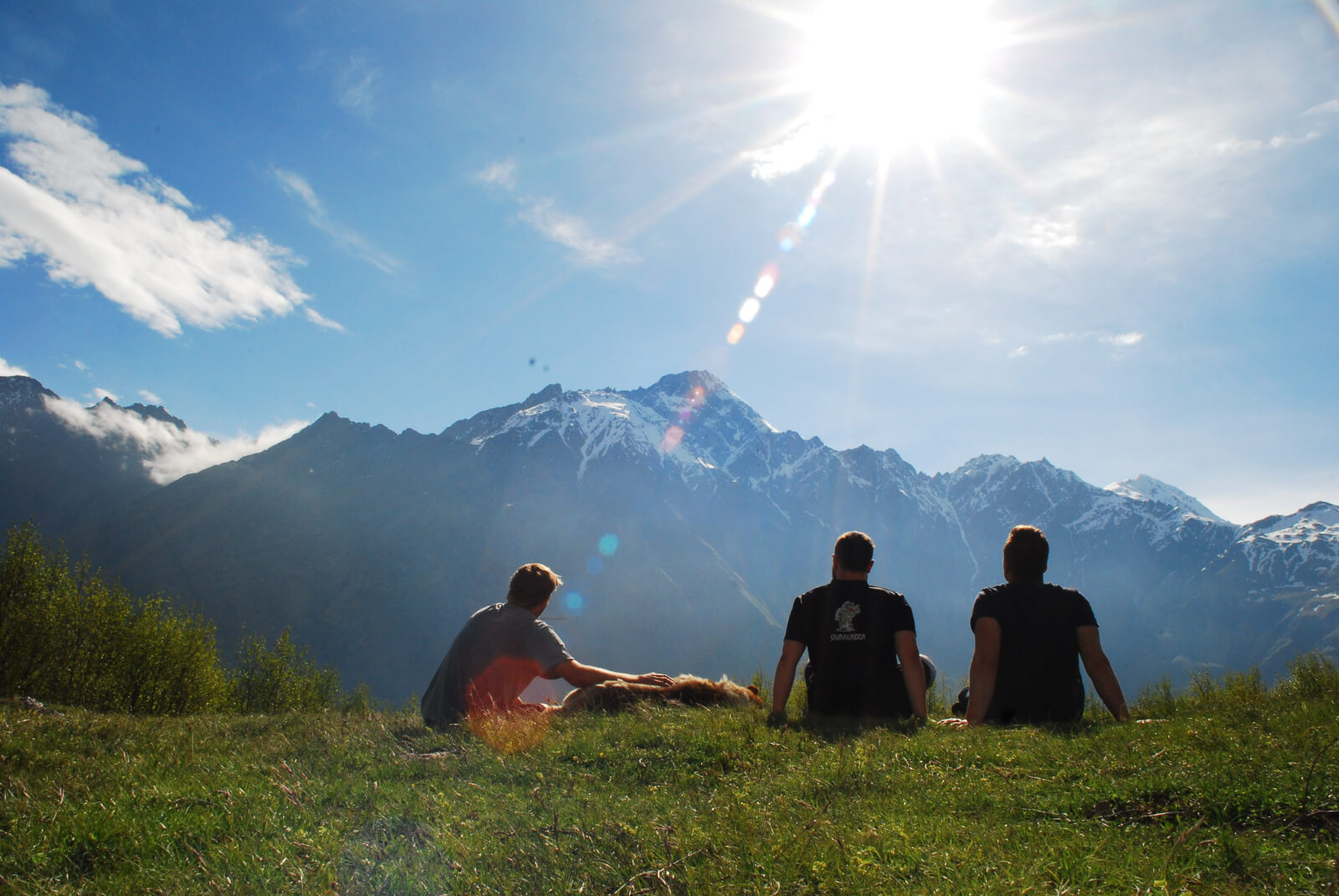 Sleeping in a tent in Stepantsminda (Kazbegi)
Of course you can also sleep in a tent. In Georgia, there are no specific rules for where you can't pitch a tent, so you can actually do it anywhere. The most popular place for setting up a tent is the hill above Stepantsminda (Kazbegi), where the Holy Trinity Church is located and the trail leading to Mt. Kazbek starts. During the high season each evening there are at least several groups of tourists with tents. This is a good place because next to the church there is a point with water, which makes it possible to replenish supplies and it means that you do not need to buy more water and carry it in the backpacks from Stepantsminda (Kazbegi). However, if you prefer to spend the night in the village, a good option for setting up a tent is a small forest by the bridge and the crossroad of the main road and the road leading to the Holy Trinity Church. This place is safe and comfortable.
Shopping in Stepantsminda (Kazbegi)
In Stepantsminda (Kazbegi) you will find everything that you need: several grocery stores, exchange offices, bank, ATMs, pharmacy, payboxes (devices for topping up Georgian SIM cards). Additionally, in our office you can buy gas for camping stoves, freeze-dried meals, or trekking maps of our region. We wrote exactly what to buy for the Mt. Kazbek expedition in another post. A link with answers to questions about what kind of food is worth taking with you on Mt. Kazbek can be found HERE.
Georgian SIM cards and Internet access
It is worth buying a Georgian SIM card. You just need to top it up for about 5-10 lari and you will be able to enjoy the Internet access and cheap calls to Europe. We recommend buying a card of Georgian operator called MAGTI. During the expedition to Mt. Kazbek, we can enjoy the signal of the priovider up to the Meteo Station (not in all places, but you can easily get a signal there). Also, at the very top of Mt.Kazbek, you will also have coverage most of the time and you can make call all these people that support you from the bottom. MAGTI cards can be bought at airports in Kutaisi and Tbilisi. You can also buy them at MAGTI points in Tbilisi or Kutaisi. In Stepantsminda (Kazbegi) you can't buy the cards of this operator, and the cards of other operators do not have such good coverage as these of MAGTI. As far as general Internet access is concerned, it is very common in Georgia and WIFI is a standard in almost all restaurants and guesthouses in Stepantsminda (Kazbegi). You can also connect to WIFI free of charge in our office and use it.
Where to eat in Stepantsminda (Kazbegi)?
Which restaurant is the best?
In Stepantsminda (Kazbegi) you will find several restaurants. They are all in the very center and you will not have any problems with finding them. We recommend two places that we think are the best. First is a small restaurant "Kazbegya". This is a place where we think you can eat the tastiest food, and also – at a good price. The second place that we recommend is the restaurant of the Hotel Rooms, which we have already mentioned. The restaurant is open to everyone, not only for hotel guests. The prices are really not that much higher than those you can find in the menu of all restaurants in Stepantsminda (Kazbegi). However, the view that you can admire from the restaurant and its terrace is definitely the most beautiful in all Stepantsminda (Kazbegi). You will be directly in front of Mt.Kazbek. It's worth going there for just one dinner. We are sure that it will be the best evening you are going to spend in Kazbegi.
Renting mountain equpiment in Stepantsminda (Kazbegi).
Before you go on the trail, you have to (if you do not have it yet) rent all the equipment necessary for the mountain action on Mt.Kazbek. In our office you can rent from us everything you need to safely climb Mt.Kazbek. The exact description of what you need to take with you is in the previous article. HERE you can find it. And HERE you can find all information about our rental.
Leaving deposit in Stepantsminda (Kazbegi)
It is known that during the mountain action you will not need all the things you took with you from your country. Everything that is unnecessary and what is too heavy to carry that in the backpacks can be left in our office as a deposit. Leaving a deposit for our clients (participants of our expedition) – for free, for all other people – 5 lari for each piece of luggage till 32 l and 10 lari  for each piece of luggage till 72 l for 1 day.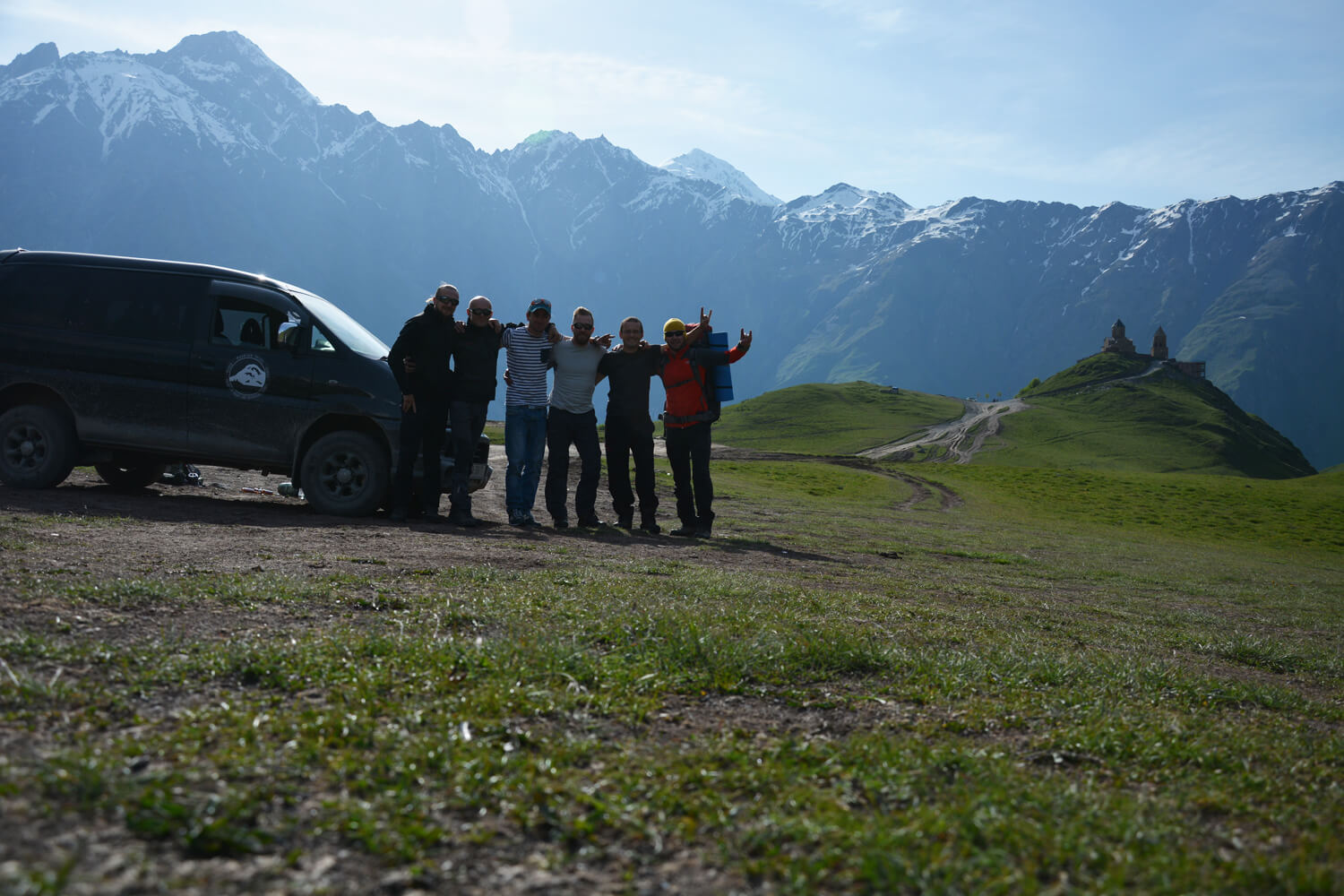 How to get to the beginning of the trail to Mt. Kazbek?
By car or on foot to the Holy Trinity Church?
The trail to Mt.Kazbek begins on the hill above Stepantsminda (Kazbegi), This is the Orthodox Church of the Holy Trinity, which you can find in all postcards from Georgia. From the center of Stepantsminda (Kazbegi) you can get there on foot, which takes about 1.5h. The road is simple and you can't get lost. The second option is to hire a driver with an off-road car that will take you to the hill where the trail begins. For this ride you need about 30 minutes. This kind of car you can rent in our office. The cost is 60 lari for a car, which accommodates 7 people maximum plus luggage.
Renting horses to transport expedition backpacks
– how to bring luggage to Meteo Station?
The main base on the way to the top of Mt. Kazbek is Meteo Station (3560 m above sea level). You can rent horses that can take your main luggage (large backpacks) straight to Meteo Station, and you will go there "lightly", only with small backpacks, in which you will have only necessary things to cover the distance between Stepantsminda (Kazbegi) and Meteo Station. This is an option that is used by the vast majority of teams going to the top of Mt. Kazbek. One horse is able to take about 60 kg of luggage, which is a maximum of 4 large or 5 small backpacks. Our horses transport luggage only for our groups. We do not rent our horses.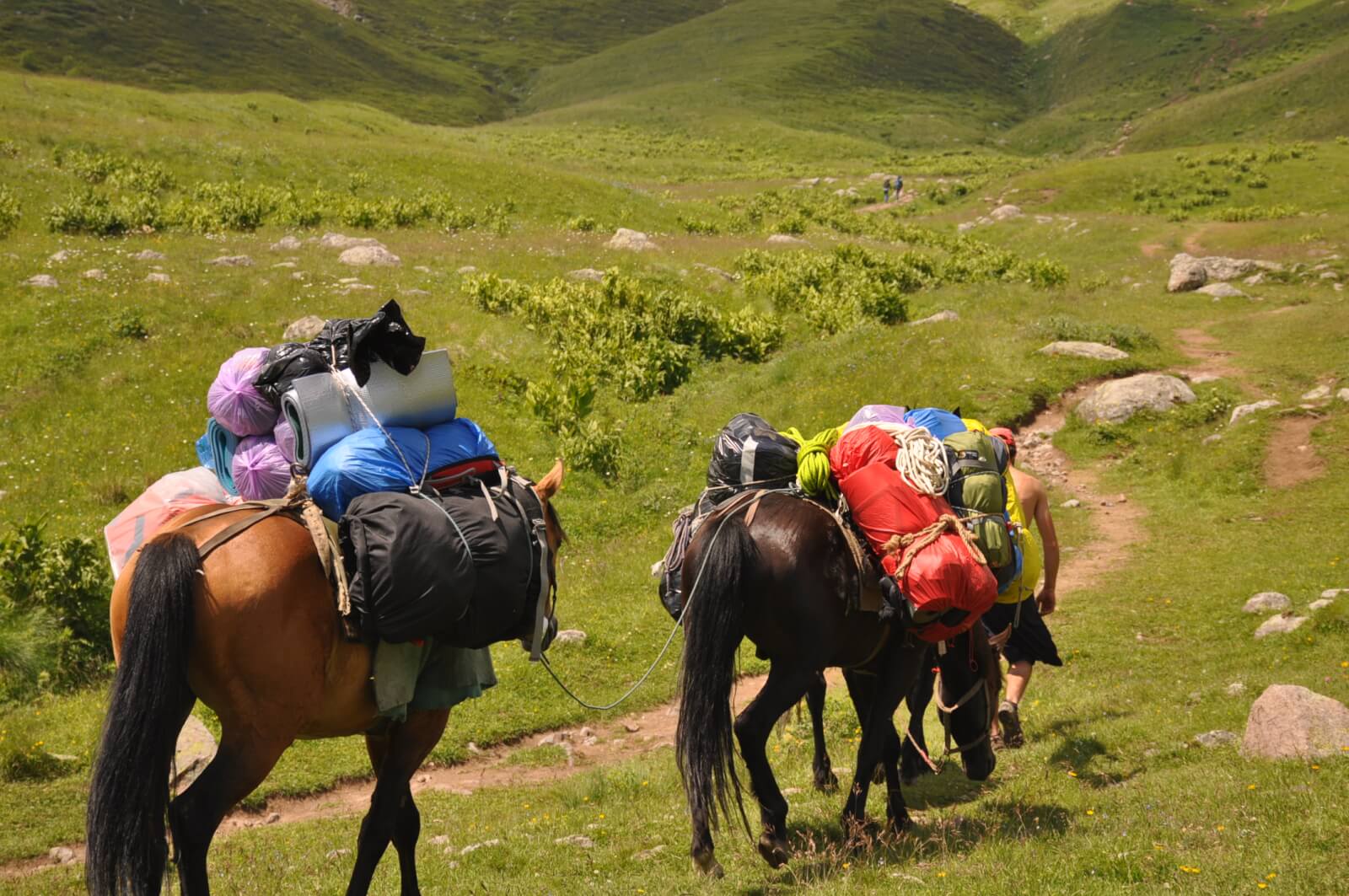 Reservation of accommodation in Meteo Station
In Stepantsminda (Kazbegi) you have to decide where you will sleep during your stay at Meteo Station. You can sleep in a tent by the station, and you can sleep in the station, in special rooms with two-story wooden bunks and straw mattresses. The cost of accommodation in a tent is 10 lari per one night per one tent. The cost of accommodation in Meteo Station is 45 lari per one person per one night. At Meteo Station, there are people responsible for collecting payments and these people will contact you after arriving there. If you want to sleep in a tent, it does not require prior reservations. However, if you plan to sleep in Meteo Station, you must make a reservation before you set out on the trail, because – especially in the summer – you may find that all available places are occupied.
Planning a safe mountain action on Mt.Kazbek
Before you go out on the trail, carefully plan your mountain action. Familiarize yourself with the information about the trail, its current status, weather forecasts for the next few days. Check whether you have calculated the amount of food that you take with you. Remember that there are shops only in Stepantsminda (Kazbegi). If you enter the trail, you will not have the opportunity to buy anything. Check if you have all the necessary high altitude equipment. Make sure you are well prepared for this trip. If you plan to get reach Mt. Kazbek by yourself, think about it one hundred times if the level of your skills and experience is enough. More information about what you need to know to try to get to the top of Mt. Kazbek by yourself: HERE. If you have any questions or doubts, you can always visit us in our office and we will give you all the necessary information. You can find our office HERE.
I hope that this post has answered most of your organizational questions related to planning the trip to Mt. Kazbek. If not, then of course you can contact us and we will try to dispel all your other doubts. Write us at: info@mountainfreaks.ge or contact us via our Facebook: Mountain Freaks – Mountain Travel & Adventure Agency.