In this post we will answer all frequently asked questions related to the organization of the Kazbek expedition.
The questions concern all of the issues that you have to plan and take into account before taking the first steps on the trail leading to the top of the mythical Kazbek. Let's start!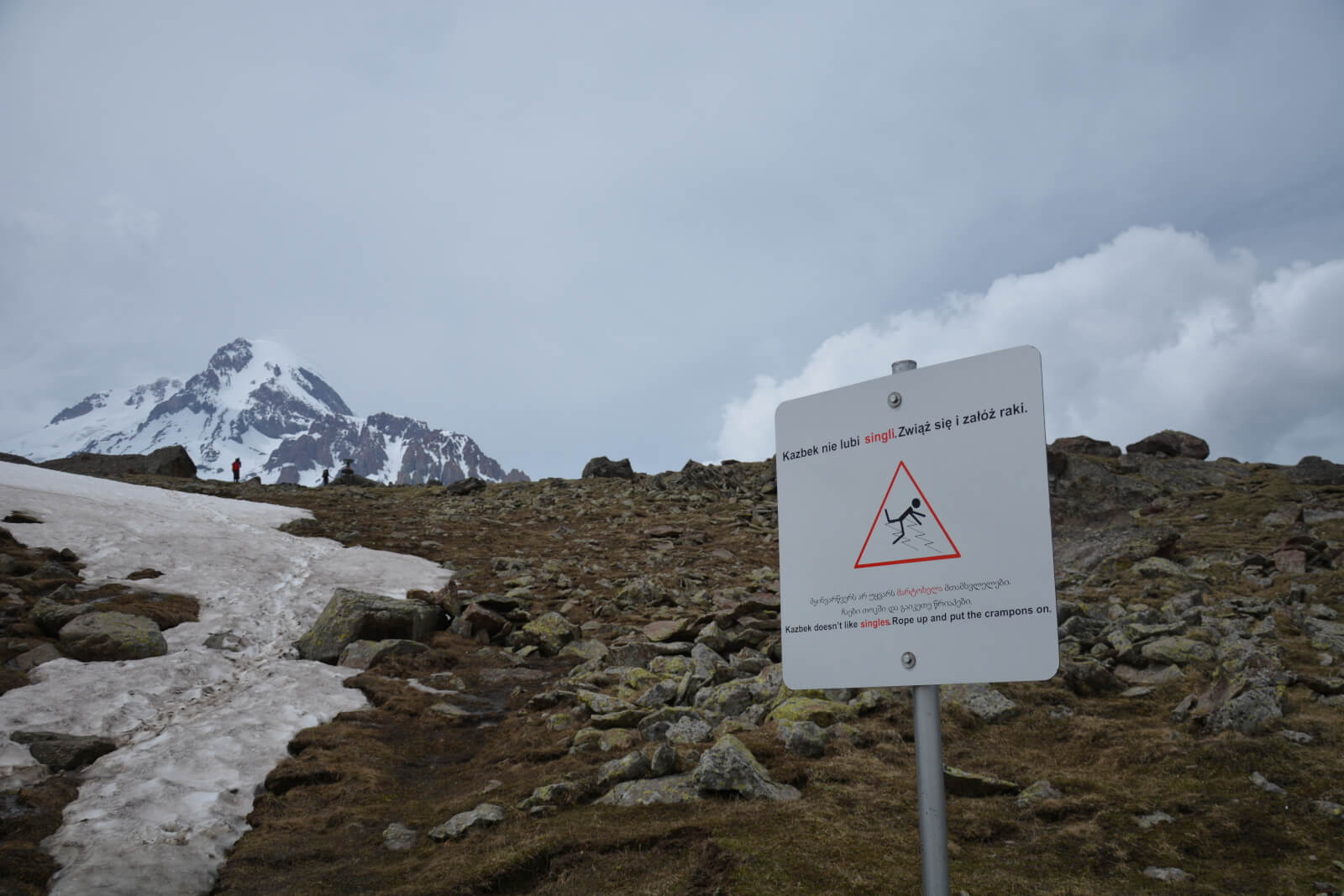 Who is Mt. Kazbek for? Who can get to the top?
Should you go alone or with a mountain agency / guide?
There are people who come to Mt. Kazbek as for a walk to some valley in August – in shorts and without gloves, and there are those who organize a sponsored expedition on Kazbek, resembling the winter K2 conquest in difficulty. Climbing to Mt. Kazbek is definitely not a walk in the Tatra Mountains, but it is also not of the Himalayan difficulty.  Mt. Kazbek is for everyone who is in a good physical condition and does not have health contraindications for increased physical activity at an altitude above 5000 m above the sea level. No previous experience in the high mountains is required. Mt. Kazbek is the perfect place for all those who want to break the border of 5000 m in the mountains for the first time. The success and safety of each trip depends only on whether we adapt our skills and experience to Mt. Kazbek. Those for whom it will be the first high-altitude expedition and all those who do not yet have a high mountain experience should decide to get to the summit under the care of a mountain agency and guides. Those who have mountain experience in winter conditions know the principles of first aid in high mountains, belaying and moving on the rope and have all knowledge on how to mark the way on the glacier and what to do if their companion falls into the gap, may try to get Kazbek's summit alone. We pay attention to the words "have experience","know" and"knowledge". They are not the same as just taking even the best course of winter tourism, climbing and others. In both cases, you should definitely not choose to get to the Mt. Kazbek only by yourself, because the way to the top leads through the glacier with many fissures, therefore it is necessary for our safety to tetherup the expedition companions with a rope.
If with a mountain agency, which to choose?
There are many mountain agencies which organize trips to Georgia, including Mt. Kazbek. For sure it will not be a problem to choose the one that suits you the best. You can also use the services of local mountain agencies from Stepancminda (Kazbegi) directly. In every place in the world and on every mountain of the world the best guide is always the local guide who knows the place and the mountain the slightest detail. Choosing a local agency is also cheaper, because we bypass intermediaries and their margins, and in addition we have more flexibility when choosing the date of the trip and the date of the mountain action itself. Regardless of which agency we choose it is always necessary to make sure that the person who is going to lead us to the summit has the appropriate qualifications, i.e. whether he / she is surely entitled to work as an alpine guide.
Why Mountain Freaks – Mountain Travel & Adventure Agency?
Our agency is a professional mountain agency and an officially operating enterprise registered in the Register of Entrepreneurs in Georgia under the number: 441485028. We have all the required permissions to conduct business and European certificates allowing for the chairmanship in the mountains. The owners of the agency (and also its guides) have been professionally leading the groups to the Mt. Kazbek for over 10 years. They live all their lives at the foot of Mt. Kazbek in Stepancminda (Kazbegi). They led over a thousand tourists from around the world to the top of Mt. Kazbek. Additionally, for many years they have also been working as mountain rescuers at Mt. Kazbek and at the ski resort in Gudauri. As a mountain agency, we insure all members of our expeditions. The entire team of our agency uses the following languages: English, Russian, Polish and Georgian. We are the owners of cars, mountain equipment rental and horses (for transporting luggage to the Meteo Station on Mt. Kazbek). We also have our own accommodation base in Stepancminda (Kazbegi). You can count on our professionalism, experience, responsibility and organizing everything at the highest level for you, because we want you not only to stand on the top during the Mt. Kazbek expedition, but – above all – to feel the true atmosphere of the alpine expedition and join the brotherhood of the rope, which will make it a journey of life.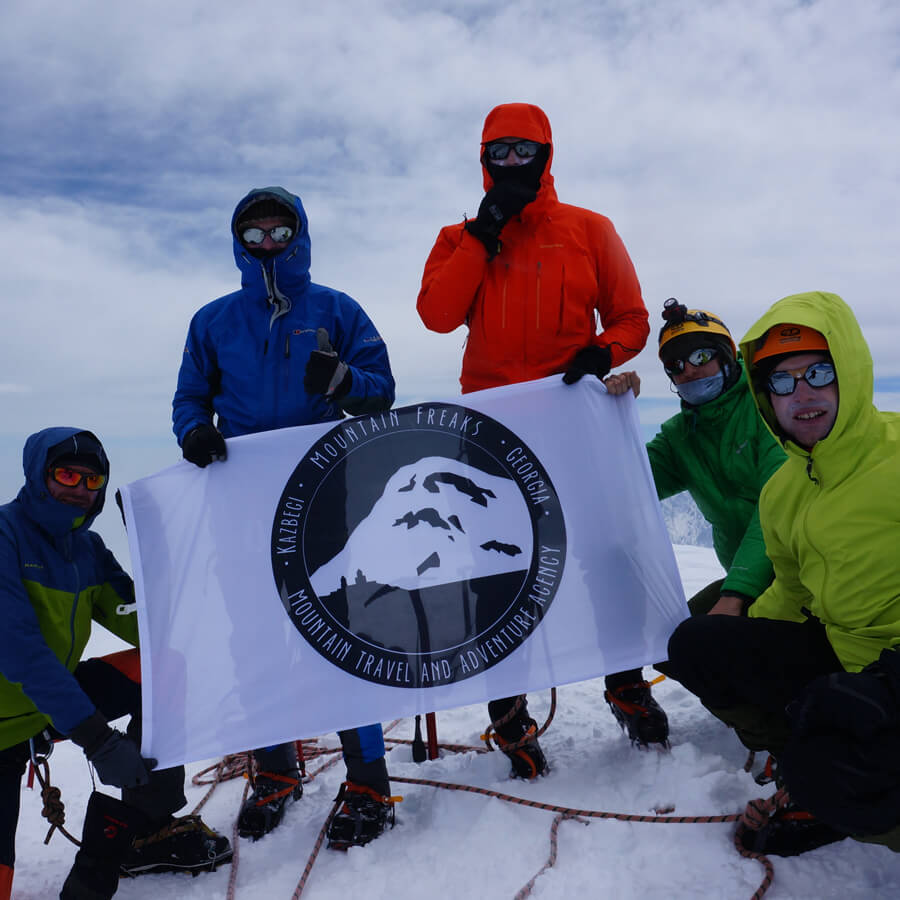 When to attack Mt. Kazbek?
You can climb Mt. Kazbek all year round. The date of your arrival will again depend on skills and experience. If you are experinced – you can even try to climb Mt. Kazbek in the winter (January – March), or during the spring during skittering tours (April – May). The summer season, and therefore the most stable weather conditions, is definitely the period from June to mid-October. Months during which Mt. Kazbek is attacked by the largest number of tourists are July and August.
How to get to Georgia and how to get to Stepancminda (Kazbegi)?
In Georgia you need to take two airports into account: Tbilisi (3 hours by car to the foot of Mt. Kazbek) and Kutaisi (7 hours by car to the foot of Mt. Kazbek). From both airports to Stepancminda (Kazbegi) you can get by the public transport – Georgian marshrutkas – or private transport, like taxis or buses ordered from local mountain agencies. With public transport, travel costs to Stepancminda (Kazbegi) are around 20 lari from a person from Tbilisi and 30 lari from Kutaisi. In both cases you should transfer at the Didube Railway Station in Tbilisi. If you travel in a larger group, a definitely more convenient and not much more expensive is the option to use a direct private transport. For a 7-person car to Stepancminda (Kazbegi) straight from the airport in Tbilisi, you pay about 300 lari and from Kutaisi around 350 lari.
Which high-mountain insurance to choose?
Whatever insurance you choose, it is most important that your policy covers the cost of a rescue operation, also with the use of a helicopter. When choosing insurance, you should also check to what region the insurer counts Georgia. For many insurers it is already Asia and even if you buy the best Europe insurance, it will not apply at all during the Mt. Kazbek climb.
What currency to take to Georgia?
The Georgian currency is lari (GEL). It is best to bring dollars or euros with you to Georgia and exchange them for Georgian lari here. Money can be exchanged at the airport, at many exchange offices and banks in Tbilisi, as well as at exchange offices or a bank in Stepancminda (Kazbegi). The best exchange rate is in Tbilisi, but the one from Stepancminda (Kazbegi) is not much lower, so when exchanging small amounts, you do not feel much difference.
Which alpine equipment is needed during the trip to Mt. Kazbek?
A complete list of equipment tha teveryone who plans to get the Mt. Kazbek peak should have can be found HERE. When completing clothing for an expedition, you must remember that winter conditions prevail on Kazbek even in summer. Already from the height of the Meteo Station (3560 m above sea level) we can expect snow and a perceptible temperature of -15 degrees Celsius at night. The peak attack is 14 hours in snow and ice, as well as in the wind and often in the snowstorm. Mt. Kazbek is the highest mountain in the area and it is not "covered" from any side, which causes all troublesome atmospheric conditions to accumulate on it. It seems to me that the list of equipment does not raise any doubts, thus I will not discuss all its components. I will stop a moment by the shoes. I know from experience that Mt. Kazbek is for many people the first highest mountain after the Tatra Mountains and at the same time the first mountain where we need not mountain boots but high mountain ones. If you can try trekking boots to the height of the Meteo Station, above it and during the peak attack, warmer high-mountain boots will be necessary. Nika up to Meteo Station uses The North Face Verto S3K GTX, but during the summit push he changes them into: The North Face Verto S6K Glacier GTX or Zamberlan Expert PRO GT RR. Ewa goes to the Meteo Station most often in Salewa Mountain Trainer MID GTX Lady and from then The North Face Verto S4K GTX Lady. However, there are days when the weather is really bad, and as a rule she is thermophilic, so she uses for the peak attack: Zamberlan Karka 6000 RR. Of course, the models given are only examples, and it is more about the very characteristics of the recommended shoes than the manufacturer. More about shoes that we recommend on Kazbek you can find HERE. We are aware that the purchase of the entire set of equipment which is necessary when climbing Mt. Kazbek can be a huge cost. Thinking about all those who do not have their high-mountain equipment yet, but also about all those who have it but do not want to take it with them (e.g. due to the limited space in the luggage) we opened the mountain equipment rental in our office in Stepancminda (Kazbegi). You can rent from us everything you need for your expedition to Mt. Kazbek. The entire list of our alpine equipment and the rental price list can be found HERE. Our rental offer includes equipment of only proven brands that we use ourselves. It is very important that our entire assortment is new – for every season we exchange the old equipment for a brand new one. Thanks to this you can rent from us the equipment that is efficient and always ready for use. One more time on topic of high-mountain boots – we have the following models in our rental: The North Face Verto S6K Glacier GTX for men and The North Face Verto S4K GTX Lady for the ladies.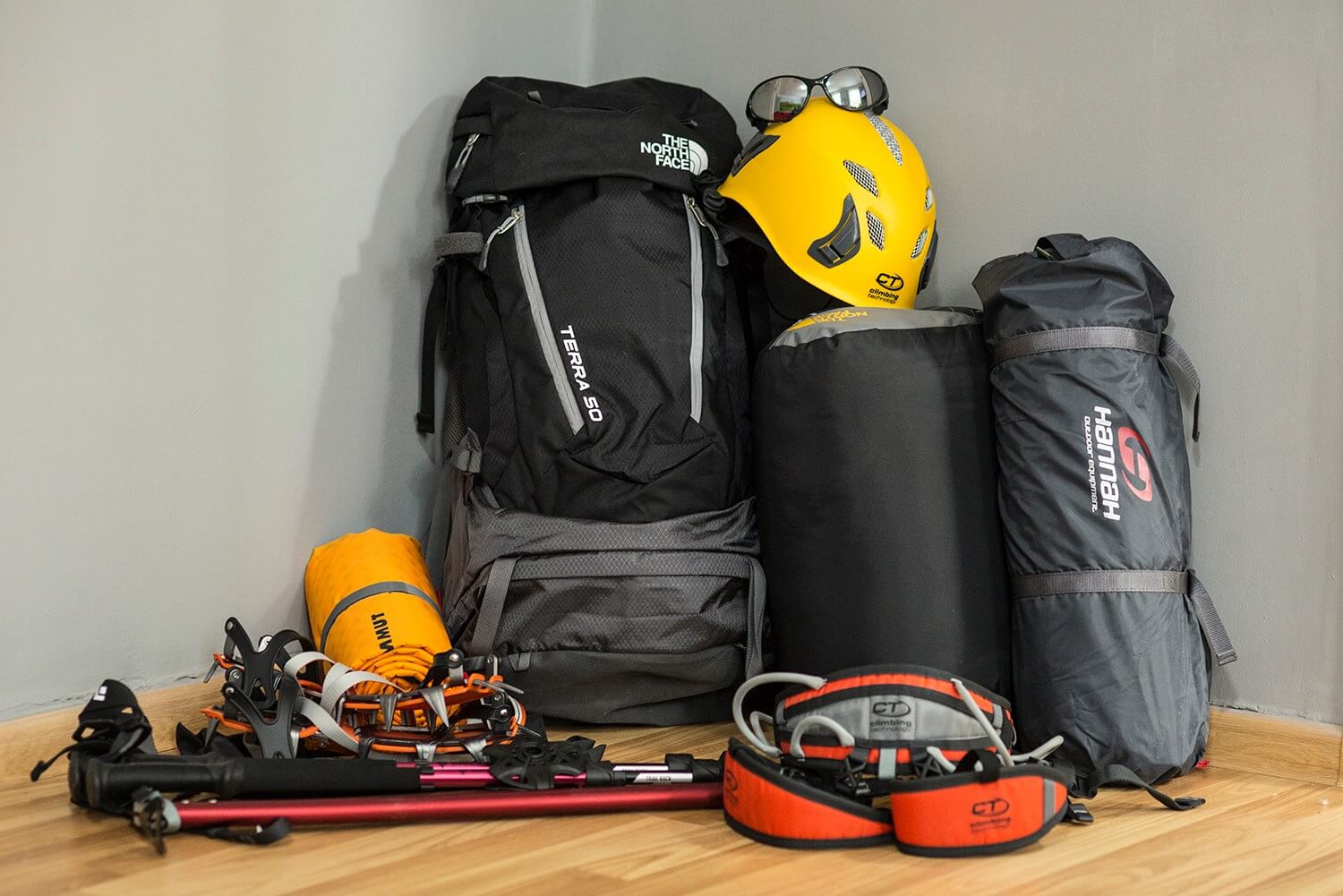 Where you can buy gas for tourist cookers?
You can buy gas easily in Stepancminda (Kazbegi). It is available in many places, including the Mountain Freaks – Mountain Travel & Adventure Agency office. The cost of gas with us is 35 lari for a large gas (450 g). It is a gas purchased in a wholesale store with high-mountain equipment from such producers as "Primus", "Coleman", "MSR Isopro". One large gas is enough for two people for 5-6 days of mountain action (if you only cook water, and not melt snow f.ex.).
What about food for mountain action? What to take? Where to buy?
During the mountain action, you prepare food (and drinks) on your own. The last place where you can do shopping are shops in Stepancminda (Kazbegi). It is not possible to buy food or drinks at Meteo Station, that's why everything you need you need to have with you when entering the trail. What we recommend is: lyophilisates (2 for each day), all kinds of Chinese soups," hot mugs", puddings, kissels, etc., so everything that can be poured with warm water and is ready to eat, kabanosy and dried meats, sweets, energy bars, vitamins dissolving in water, nuts and dried fruits, tea, coffee (plus sugar if someone uses), as well as bread and cheese (the Georgian ones are long fresh). We also recommend to take from Stepancminda (Kazbegi) one or two pieces of Georgian Khachapuri (a traditional cake with cheese). It is tasty even when it is cold, and provides a large dose of energy that is necessary during a mountain action. All of these products can be purchased at Stepancminda (Kazbegi). When it comes to water, in the summer we need to have a supply for only a few hours, because on the way to the Meteo Station and in the Station itself there are points with water (mountain, which must be cooked before consumption). In the winter season, we will buy water in Stepancminda (Kazbegi), and then we can use only the water we receive after melting the snow.
More organizational information?
I hope that this post has answered most of your organizational questions related to planning the trip to Mt. Kazbek. If not, you can surely contact us and we will try to dispel all other doubts related to this topic. Write to us at: info@mountainfreaks.ge or contact us via our Facebook: Mountain Freaks – Mountain Travel & Adventure Agency.