Elbrus (5642 m above sea level) is the highest peak of Russia and the whole Caucasus. By some climbers it is also considered to be the highest mountain of Europe and hence it belongs to the so-called "Seven Summits". That is why it is a very popular goal of high-mountain expeditions (much more popular than Georgian Kazbek!). There are also many climbers willing to get two Caucasian giants during one expedition, namely Kazbek and Elbrus. We find this idea particularly interesting and we also very often organize expeditions which combine both peaks. Because air tickets to Georgia are much cheaper than those to Russia (the nearest airport by Elbrus is in Mineralnye Vody), we usually organize an expedition variant only to Elbrus, as well as to Kazbek with Elbrus jointly, with the starting and ending points at one of the airports in Georgia: Tbilisi or Kutaisi. You can find below the most important information that you will surely need when organizing similar expeditions.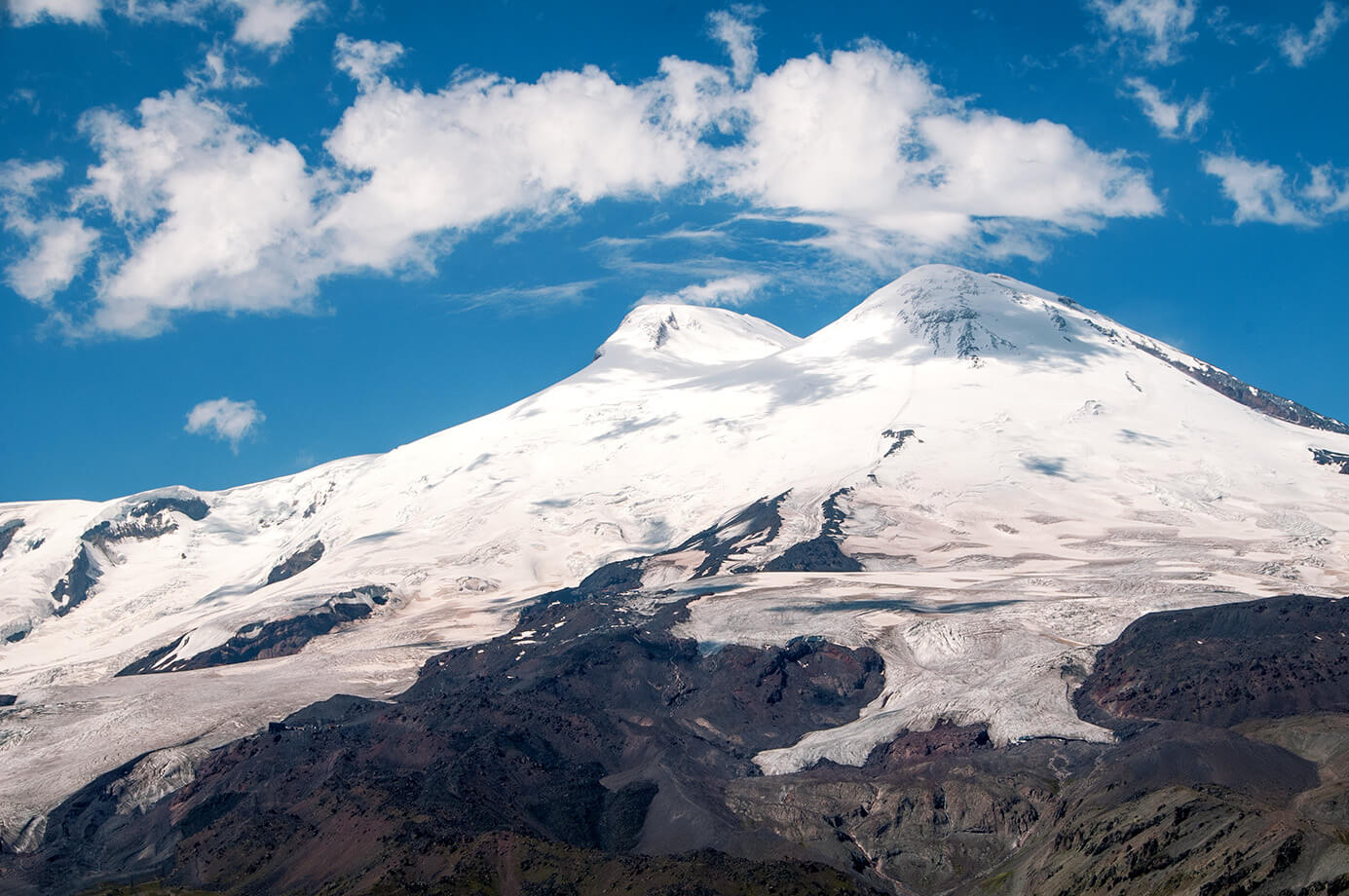 ONLY ELBRUS OR ELBRUS WITH KAZBEK? WHICH SUMMIT TO ACHIEVE FIRST?
We recommend the combined trips, during which you will first get to Kazbek and then Elbrus. Why? You will spend more time on the first mountain, because you have to go through the whole acclimatization process. You will be able to get to the second mountain much faster because you will be acclimated and you will be able to start the peak attack right away. Kazbek is a more beautiful and interesting mountain than Elbrus. Therefore, the entire course of the expedition is an unforgettable experience, which is worth living in full and without haste. Elbrus is definitely a more commercial mountain. A significant part of the height of Elbrus can be done by a cableway (!). On Elbrus you can find a more commercialized accommodation base (there are even hotels (!) at the very top – we don't talk about a village from which climbing begins). The road to the summit resembles a highway on which, in addition to climbers, there are snowcats and snow scooters (which we can see even 5000 m above sea level). The lower part of the trail resembles a huge construction site – new hotels, restaurants etc. are still being built. It all makes that despite of the surrounding Caucasian peaks, it is difficult to feel the true magic of the mountains. Most people go to Elbrus to simply "check" it. It's not cool at all, but it just is like that. If the emotions of climbing are not appealing, it is worth noticing that the general costs of staying in Georgia are certainly lower than in Russia, hence it is worth spending more time in Georgia and go to Russia only for the fast mountain action ("fast" does not mean that we forget about safety!).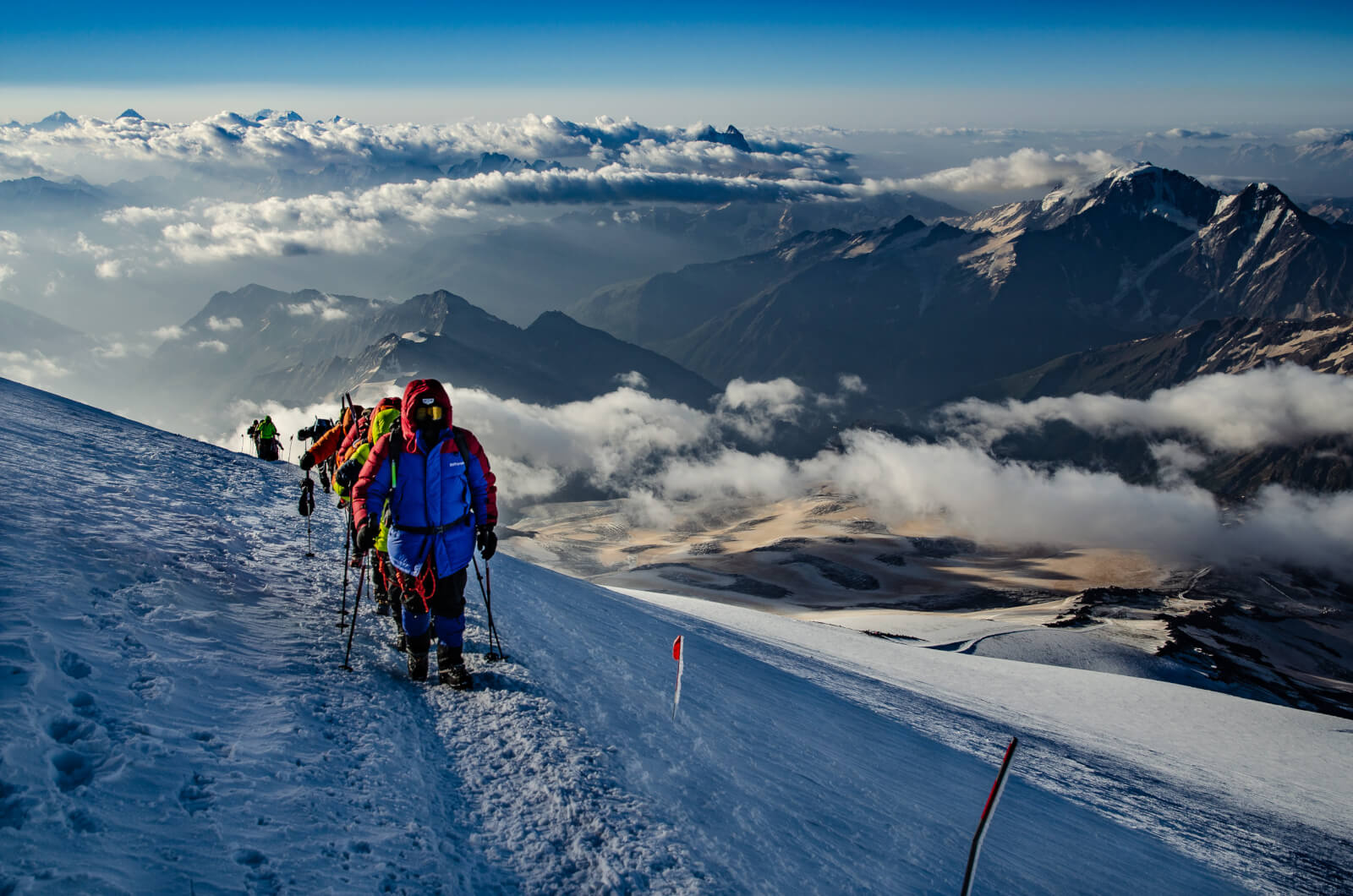 VISA TO RUSSIA
While most of you do not need a visa to Georgia, in order to cross the border with Russia most of you will need a Russian tourist visa. A visa must be arranged in advance. It is not possible to buy it at the border or arrange it in Georgia. You can start arranging visa three months before the planned crossing of the border with Russia. We always order a visa through a visa agency that specializes in it. We do not apply for visas directly at the embassy or consulate, because one of the documents that should be attached to the application is the so-called a tourist voucher, that is a foreign tourist's invitation to Russia issued by an authorized Russian tourist organization. In fact, nobody can say why such a thing is needed and how an ordinary tourist would get something like that, but it must be attached to the visa application. The help of the agency is really invaluable, because they organize the voucher. Of course, you can try to apply directly to the embassy/consulate, but we prefer to use the agency's help and easily get the visa in 3-4 days, because that's how long it takes.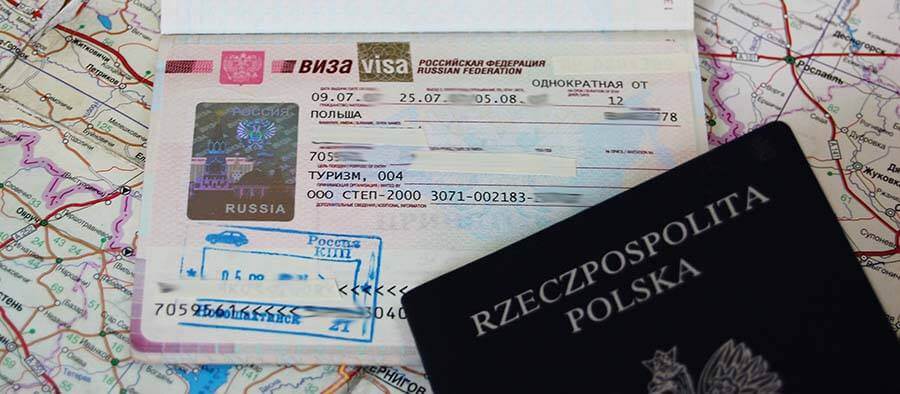 PART ONE – KAZBEK
The first part of the expedition is just like any standard expedition to Kazbek. We have written a few detailed articles on Kazbek's acquisition, as well as on the entire preparation process for the expedition, so we recommend you to read them. You will find them HERE. You can also get inspired by the plan of our individual expeditions to Kazbek and Elbrus, which you will find HERE.
TRANSPORT FROM GEORGIA TO RUSSIA
After leaving Kazbek the next step is the transport to Russia to Azau (2488 m above sea level), which is located at the foot of Elbrus. You can get from Kazbegi (Stepancminda) near Kazbek to Azau only by private transport. There are no public buses or minibuses on this route. From Kazbegi to Azau is around 300 km, and on the way we cross the border in the village of Verkhny Lars. The route itself takes around 5-6 hours (with a short break for the toilet or shopping in the store, etc.). You should also add some time for crossing the border. When you are lucky, you can do it in an hour or two, but you should be ready for up to 5-6 hours of waiting (so it is worth taking water and some snacks for the road). Not every driver can cross the border, because Georgians also need a Russian visa. The border cannot be crossed on foot (during crossing you should be in the car). It is worth making sure that the driver who is to take you to Azau will take you to Azau without transfers or changing the car. There are often situations when tourists are unable to make an exact arrangement with the driver, as a result of which during these 300 km they change the means of transport and other drivers several times. Please note that the border is closed from 10 pm to 5 am and it is impossible to cross it in this time.
If someone wants to get directly from Tbilisi/Kutaisi to Azau, then only private transport is involved. Buses from Tbilisi go to Russia, but only to Vladikavkaz. From there you need to find the next bus to Nalchik. And from Nalchik you have to take a private taxi to Azau (Tereskola). Such mixed transport certainly takes much more time than direct travel, and in addition can be more expensive than ordering direct transport from Tbilisi/Kutaisi to Azau. We strongly recommend direct travels.
With our help you can order transport from Kazbegi to Azau (as well as from Tbilisi/Kutaisi to Azau, if you go straight to Elbrus and omit Kazbek).
The cost of transport for the whole car, which can take a maximum of 6 people plus luggage:
Kazbegi – Azau – GEL 600
Tbilisi – Azau – GEL 800
Kutaisi – Azau – GEL 950.
Possible return:
Azau – Kazbegi – 600 GEL
Azau -Tbilisi – GEL 800
Azau – Kutaisi – GEL 950.
If your group consists of more than 6 people, you will need two or more cars (each car can take another 6 people). The transport should be booked a day earlier, and if you know the exact date of the planned border crossing, the sooner the better. It is an international transport, so its organization takes more time than transfers within the country.
If you go straight from Tbilisi/Kutaisi to Azau, there is an opportunity to stop at our office in Kazbegi (there is no other option, you have to go through Kazbegi), where you can buy gas, lyophiles, or rent alpine equipment. If you come back to Georgia after mountain action on Elbrus, then again you will have to drive around our office, so you can return the rented equipment.
When crossing the border, you will receive the so-called migration card. You need to fill it with standard data, namely: name, surname, visa number, etc. You give the customs officer a passport with this card at the border. The customs officer will cut one part and leave the other one to you. Important! You must always carry this card with you and, for example, show it when you check-in at a hotel in Russia. The most important thing is that the other part of the card is necessary to leave Russia. Therefore make sure you do not lose it, because it can cause you problems when going back home.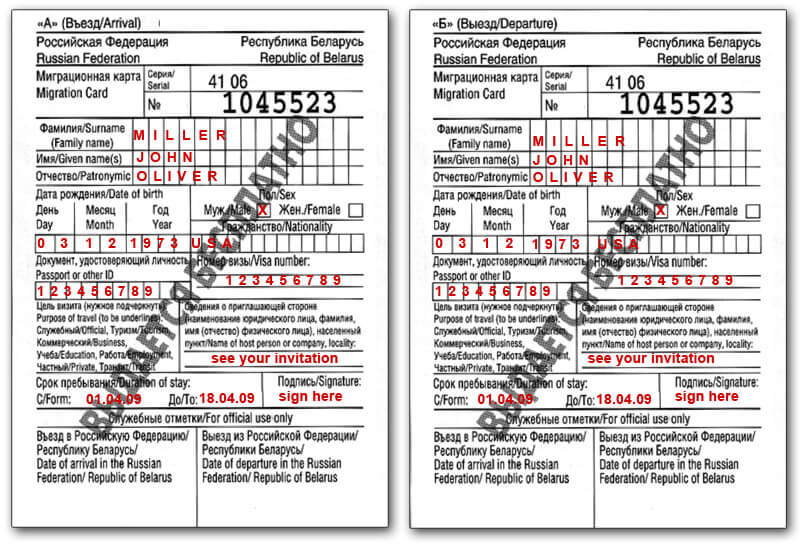 PART TWO – ELBRUS
When is the best season for getting to Elbrus? Who can try themselves? What experience is required? Which insurance to choose? How to get to Georgia? Answers to these questions are similar to those that we put in the article about the organization of the expedition to Kazbek, so click HERE.
Equipment: At Elbrus you need the same equipment as in the case of Kazbek, so you can find the list HERE. Make sure to read our tips on shoes needed during the expedition to Kazbek and Elbrus, or to Elbrus only.
Internet in Russia: To enjoy Internet access while in Russia, you need to buy a Russian SIM card with an internet package. There are many shops on the route from Georgia to Azau where you can do it. The infrastructure on Elbrus is very good, so if you have a local SIM card, you will have good coverage all over the mountain.
Accommodation in Azau: Accommodation base near Elbrus is very extensive, that's why everyone will find something for themselves. We recommend HOTEL ANTAU, where we always stop when we are in Azau (clean place, good value for money, the possibility of ordering breakfasts and dinners, location near the cableway).
Registration of stay in Russia: In Russia the registration obligation is in force and is being closely followed. It means that every citizen of Russia after arriving to a region different than his current residence must register themselves. This rule also applies to tourists. You can download the required form earlier or receive it on each post office. If you spend the night in a hotel, hostel or guesthouse, this facility is obliged to register for you and you must apply only for a part of the registration confirmation form that you will need when leaving Russia. In Terskol (5 km from Azau) registration can be made at the post office. A fee is charged for such registration (around EUR 7).
Fee for admission to the Elbrus National Park (fee for permission to climb the Elbrus peak): Not always, but more and more often (especially during the summer season) at one of the lift stations you will meet an employee of the Elbrus National Park who will ask you to pay 300 rubles for each person for the permit for entering the park / for climbing the summit. He displays a receipt that you should take, because you can meet another representative of the National Park somewhere in the mountains, who will want you to pay for entry one more time (if you will not have a receipt).
Mountain action plan: We recommend to get inspired with the plans of our trips. Both those for Elbrus only (HERE) and for Elbrus with Kazbek (HERE). You will definitely create the perfect plan for yourselves on their basis.
Infrastructure in Azau: Azau is a small place, but thanks to the fact that it lies at the foot of Elbrus – very popular and well-developed. You will find everything there – grocery stores, restaurants, ATM, equipment rentals, sports shops, souvenir shops and a local bazaar. 
Currency in Russia: In Russia you pay in roubles. In the vast majority of places you can only pay in cash, so be prepared for it.
Accommodation on Elbrus: The accommodation base on Elbrus itself, as in Azau, is very extensive. You can sleep, among others in a tents, in the so-called "Barrels" (old barrels for fuel adapted to the flat, a characteristic point on Elbrus), in containers near "Barrels", in the Prijut Maria hostel, and even in a hotel at 4000 m above sea level – LeapRus! Accommodation base is still expanding, so everyone will find something for themselves. Prices are from EUR 15 per person per night. You can find information on bookings on the internet.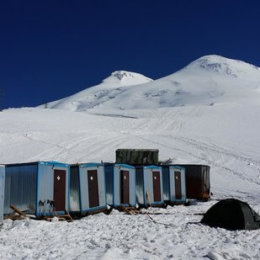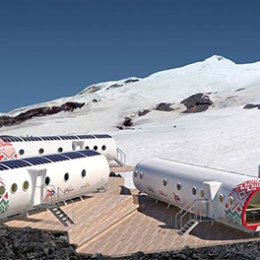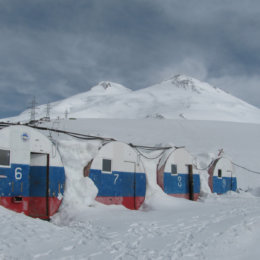 Cableway from Azau: Elbrus has two lines. One old and one modern (4-passenger cabins adapted to transport skiers in winter, because the slopes of Elbrus are a popular ski resort). With the newer cableway you can reach the altitude of 3832 m above sea level, with the old one – the altitude of 3458 m above sea level, and from there get by a chairlift to the so-called "Barrels" at a height of around 3800 m above sea level. The ticket for the new cable car is 1200 rubles, and for the old one – 700 rubles (there and back).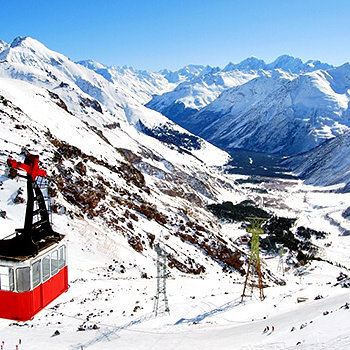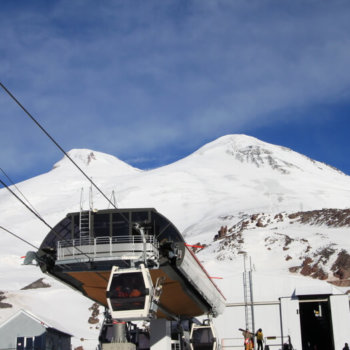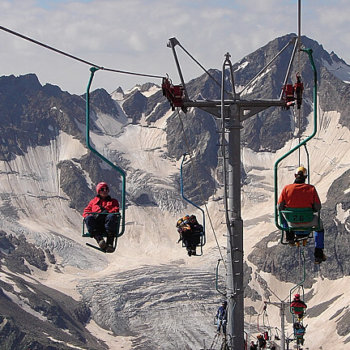 Rental of snowcat/snow scooter: During the summit attack on Elbrus it is possible to rent a snowcat/snow scooter, which will lift you to an altitude of around 5000 m above sea level (the actual height depends on the current weather conditions), which shortens the peak attack by around 3-4 hours (if you start from a standard place – vicinity of the so-called "Barrels"). On the place you can easily find volunteers for this type of service. You need to negotiate a price for this pleasure each time you want to use it. The suggested price is about EUR 50 per person for one way transport and EUR 70 for two-way transport (after the top attack the snowcat/snow scooter can pick you up from a height of around 5000 m and then take to the vicinity of the so-called "Barrels"). Whether you use this option or not, snowcats and snow scooters will be seen everywhere during the initial stage of the peak attack, because the vast majority of people use their services, so they go up and down without any breaks. Be careful not to fall under the snowcat/snow scooter during the night peak attack.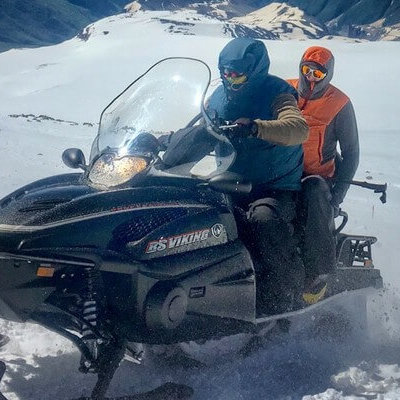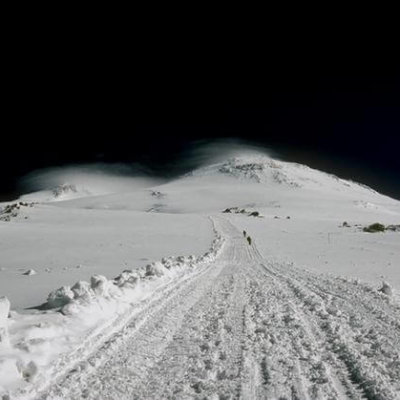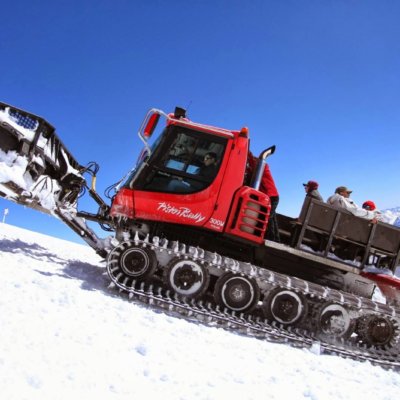 Enter to Cheget: You cannot see the Elbrus summit from Azau. To see it you need to take a taxi to the neighbouring town (7 minutes by car) and take the cableway to the top of Cheget (3700 m above sea level), from which there is the most beautiful view of Elbrus. In the vicinity of the lower station of the cableway to Cheget there is a bazaar and several restaurants. We highly recommend going on such a short trip!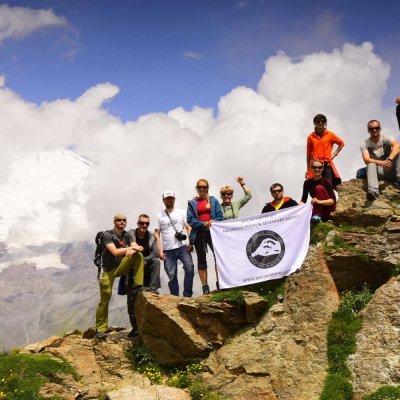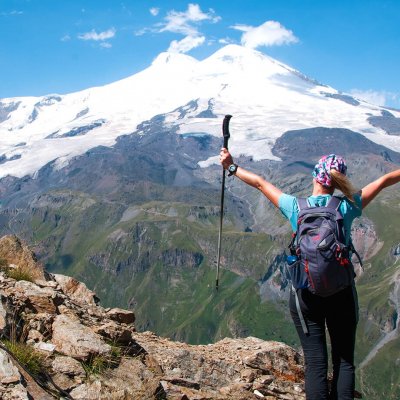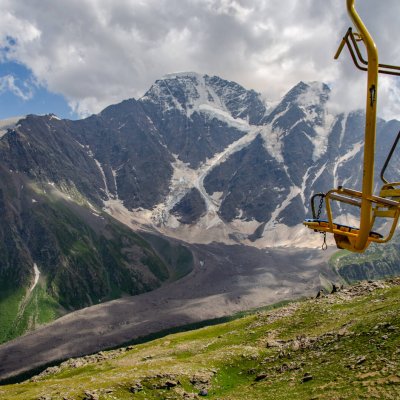 MORE INFORMATION ON EXPEDITION ORGANIZATION
I hope that this post has answered most of your organizational questions related to planning the expedition to Elbrus or Elbrus and Kazbek jointly. If not, you can contact us and we will try to dispel all other doubts related to this topic. Write to us at: info@mountainfreaks.ge or contact us via our Facebook profile: Mountain Freaks – Mountain Travel & Adventure Agency.